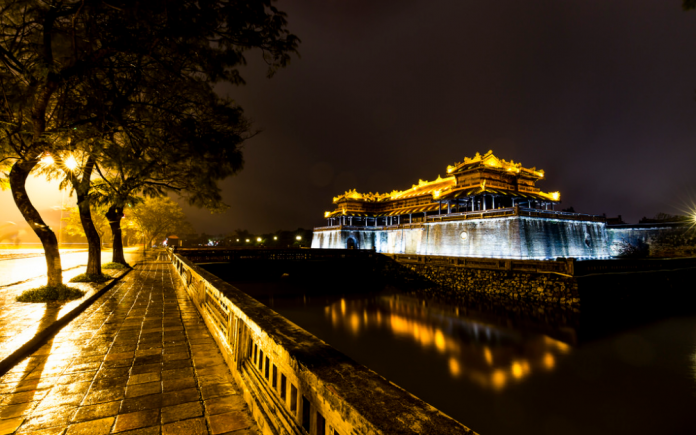 General information about Hue
Area: 70.67 sq. km
Population: 354.124 thousand habitants (2015)
Administrative Division:
– Wards (27): Phu Nhuan, An Cuu, Truong An, Phuoc Vinh, Vinh Ninh, Phu Hoi, Xuan Phu, Vy Da, Tay Loc, Thuan Loc, Thuan Thanh, Thuan Hoa, Kim Long, Phu Hoa, Phu Cat, Phu Hiep, Phu Hau, Phu Binh, Phu Thuan, Phuong Duc, Huong So, An Hoa, An Dong, An Tay, Huong Long, Thuy Xuan, Thuy Bieu.
Ethnic groups: Viet (Kinh)
Hue City is one of places which have many cultural heritage. Up to now, there is no place like Hue remaining a lot of originally historical vestiges as in this ancient Capital City.
On the northern bank of Perfume River has relics consisting of palaces, which were constructed as arc defensive ramparts with 11km length. This valuable construction includes more than 100 architectural works which were extremely reflected the life of Emperors and mandarins under reign of Nguyen.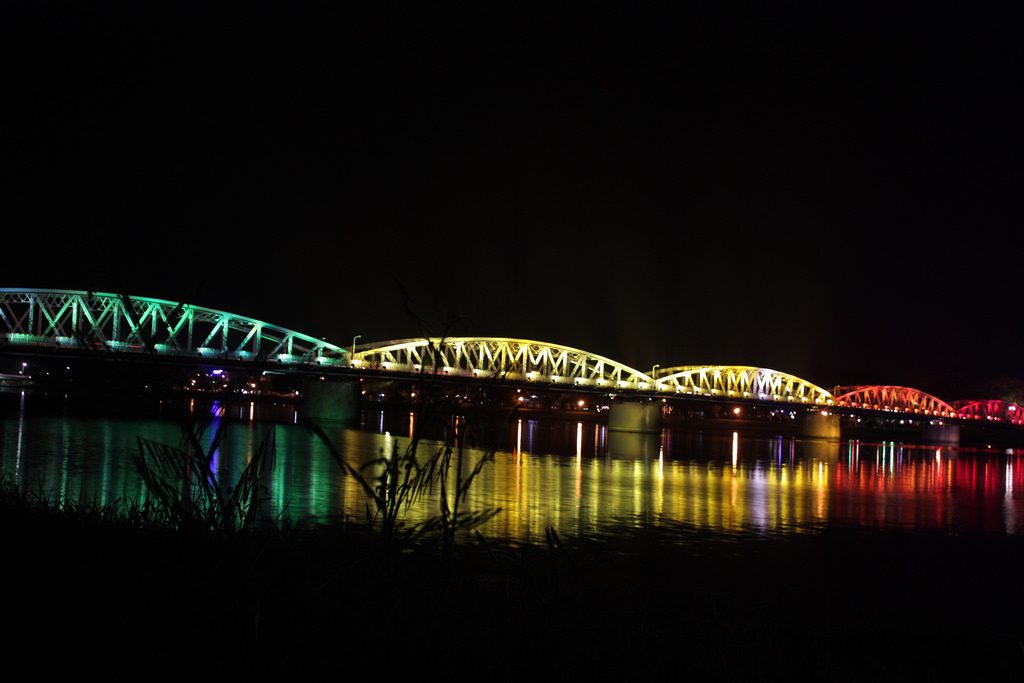 Situated in the middle of hills on the southern bank of Perfume River are very beautiful tombs of Kings Nguyen. Among these tombs are the four famous ones with the name and the arrangements of the tomb reflected each Emperor's points of view, personality and tastes. There are majestic Gia Long Tomb, imposing Minh Mang Tomb, poetic Tu Duc Tomb and magnificent Khai Dinh Tomb.
Besides, Hue is a place where the royal music is originated, and a place with traditional famous dishes and sophisticated handicraft.
2. Hue Festival – Things to do in Hue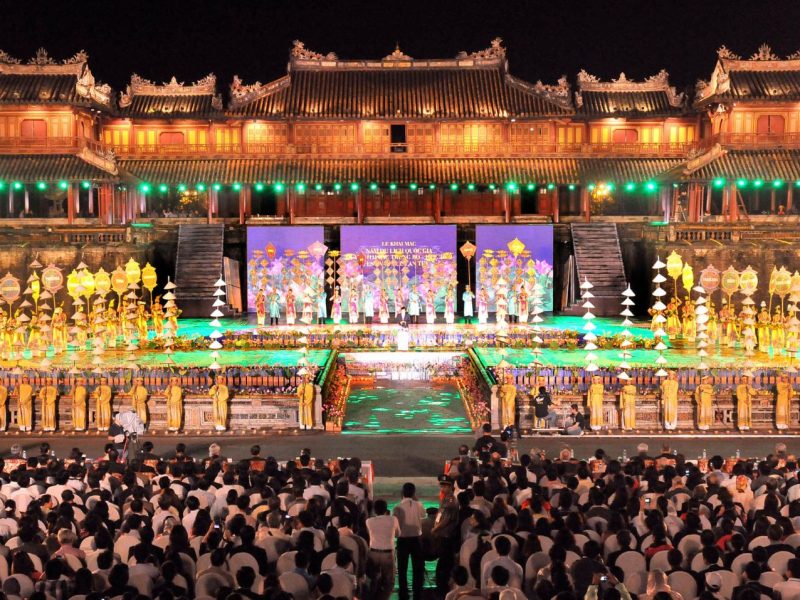 Time: Around April or May. Hue Festival is a biennial cultural and tourism event held in even years of national and international scale.
The event brings together unique traditional and contemporary art performances imbued with Vietnamese cultural identity, especially Hue culture including Imperial Night, Nam Giao Offering Ritual, Ao dai (traditional long dress) and royal clothing show, Vietnamese Timbre, etc. In addition, international art troupes from countries worldwide participate in Hue Festival with art programs representing cultural nuances of 5 continents.
In response to Hue Festival, many different activities are also organized such as contests, fairs, exhibitions, food festivals, etc.
3. Dong Ba Market – Hue Tourist Attraction
Location: Situated along the northern bank of Perfume River, Tran Hung Dao Street, Hue City, Thua Thien – Hue Province, about 100m to the north from Truong Tien Bridge.
Characteristics: Dong Ba Market is the biggest market in Thua Thien-Hue Province.
◊ History 
Under the reign of King Gia Long (1802-1819), there was a big market named Qui Gia near Chanh Dong (Dong Ba) Gate of Hue Citadel. The name "Qui Gia" referred to the return to Phu Xuan Capital (Hue nowadays) of Nguyen Dynasty. In 1885, the capital was attacked by French colonial and Qui Gia Market was burned. In 1887, King Dong Khanh had the market rebuilt on the foundation of Qui Gia Market and renamed Dong Ba. The market supplied food to the royal, hospitals, army camps and dormitories of Quoc Hoc, Dong Khanh, Binh Linh, Thien Huu schools… In 1899, under the Western-style reconstruction project of King Thanh Thai, the market was moved to the nowadays position. Even though Dong Ba Market underwent several repair projects from the beginning of the 20th century, but nowadays, it still embraces many old features.
◊ A Symbol of Hue City
Apart from the bell tower in the centre, Dong Ba Market contains 2,700 stalls arranged in 9 rows. The total area of the market is over 22,700m². The average number of people to the market daily is 5,000 – 7,000 and can be double during the holidays.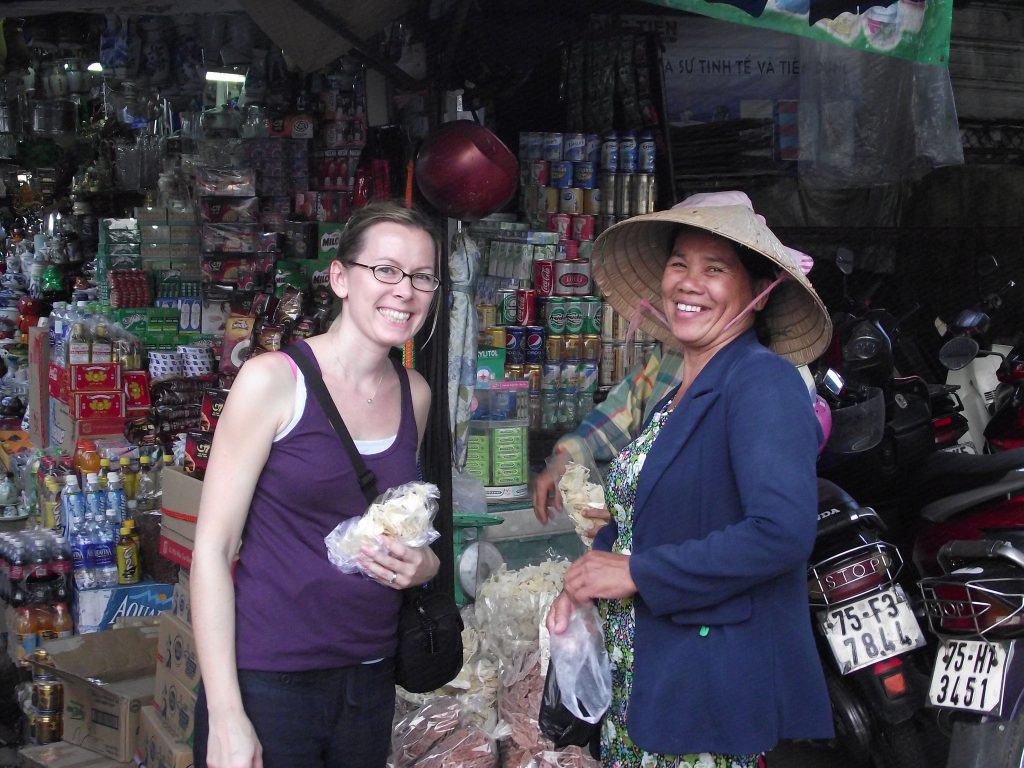 All quintessence products of Thua Thien-Hue Province can be found in Dong Ba Market, including Phu Cam conical hat, Ke Mon jewelry, Song Hy sesame candy, Truoi berry, Tuan tea, Huong Can tangerine, Lai Bang thanh tra fruit, lotus seed of Tinh Tam Lake… Traditional dishes of Hue such as com hen (mussel rice), bun bo (beef vermicelli), banh la (leaves cake)… can be purchased in the market.
Nowadays, Dong Ba Market plays an important role in economy and trade activities of Hue City. Apart from providing food and other goods, the market is also a must-see destination for visitors to buy local specialities. Along with Truong Tien Bridge and Perfume River, Dong Ba Market is one of symbols of the poetic city of Hue.
4. Hue museum of Royal Antiquities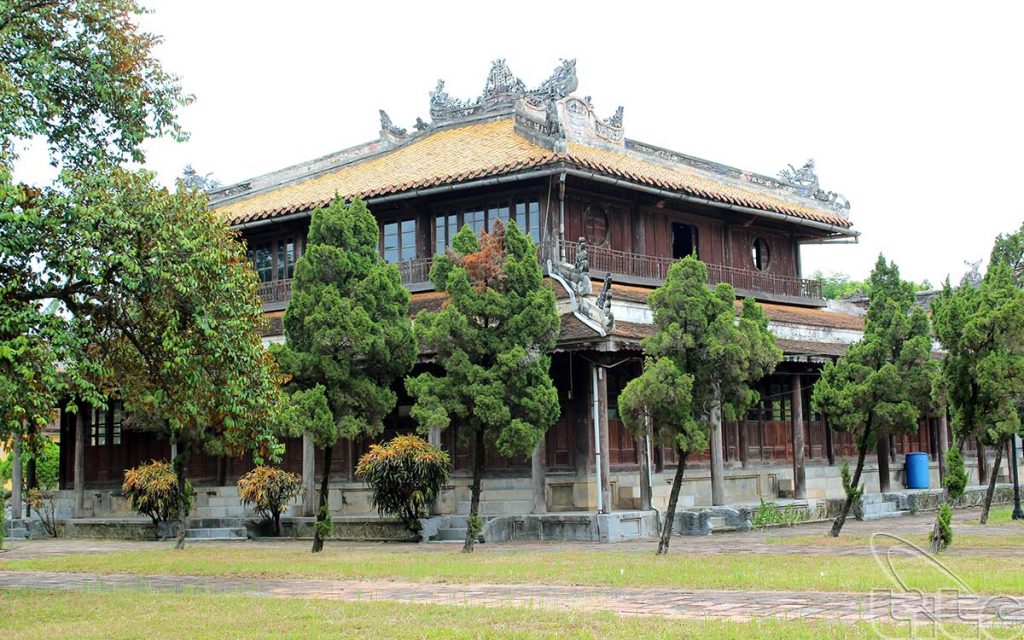 Location: No. 3 Le Truc Street, Hue City, Thua Thien – Hue Province.
Characteristics: The museum displays the antiquities related to Nguyen Dynasty.
Hue Museum of Royal Antiquities covers on area of more than 6,000m². The main showroom of the museum was Long An Palace reconstructed in 1909 as the library of Quoc Tu Giam (National Academy).
This work has the architectural style "trung thiem diep oc" (sloping successive roofs), a unique palace architecture of Hue. The interior and exterior of the palace are decorated artistically, magnificently and exquisitely.
Since 1923, Long An Palace has been used as a showroom of more than 10,000 antiquities, mainly served daily lives, rituals, beliefs and defence of Nguyen Dynasty (1802 – 1945). Besides, there are gifts, merchandises from foreign and trade relations between Nguyen Dynasty and other countries, typically Chinese ceramic and enamelled bronze, French ceramic and bronze. Hue Museum of Royal Antiquities also stores more than 80 Cham objects found in the areas of O and Ly (now Quang Tri and Thua Thien -Hue provinces) and Tra Kieu (Quang Nam Province).
Opening time: 6.30am – 5.30pm (in summer) or 7.00am – 5.00pm (in winter) daily, except Mondays.
Fare: VND 150,000/person; children (from 7 to 12 years old): VND 30,000/person for package tour of Imperial Citadel, Forbidden Citadel and Hue Museum of Royal Antiquities.
5. Hue Citadel – The most famous tourist attraction in Hue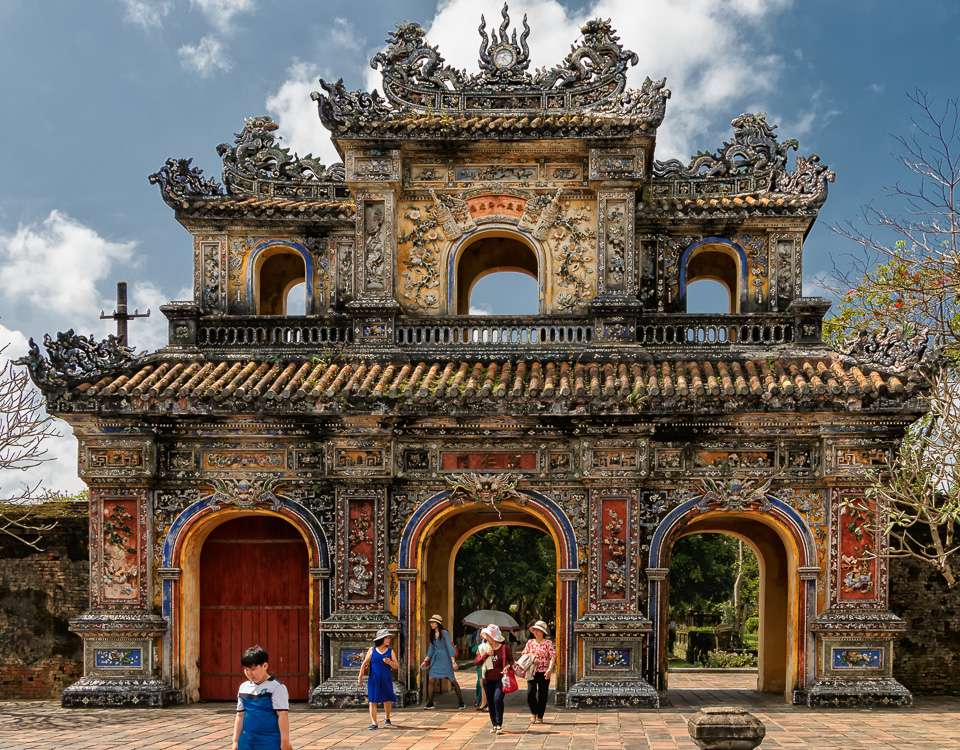 Location:Hue Citadel is situated on the Northern bank of the Perfume River.
Characteristic: With an area of 500ha and a system of three circles of ramparts, namely from outside to inside: Kinh Thanh Hue (Hue Capital Citadel), Hoang Thanh (Royal Citadel) and Tu Cam Thanh (Forbidden Citadel).
Hue has chosen to be the capital city of the Southern Kingdom by all Lords Nguyen and officially became the capital under Tay Son Dynasty. For approximately 400 years, Hue has become a great landscape and architectural site. Hue royal complex has been officially recognized by the UNESCO as a World Heritage Site since 1993.
Ngu Binh Mountain in the south is used as a front screening elevation. Two sand dunes of The Con Hen and Con Da Vien on the Perfume River are chosen as geomancy condition "dragon on the left, tiger on the right" to protect the capital city.
◊ Kinh Thanh Hue (Hue Capital Citadel)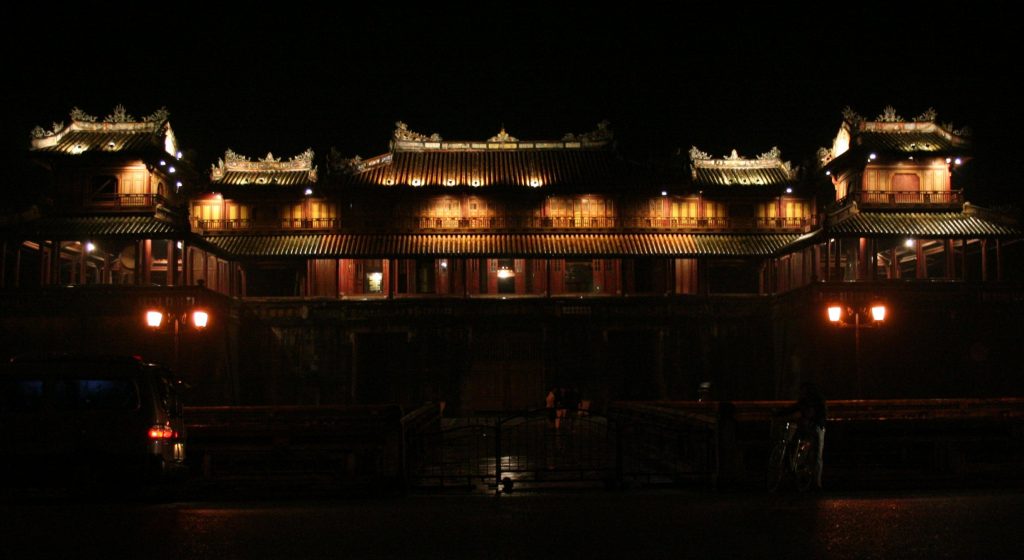 This construction stared in 1805 under the reign of Emperor Gia Long and completed in 1832 under the reign of Emperor Ming Mang. Under Nguyen Dynasty, the Kings had ordered to build ramparts, palaces and constructional works for royal. Over 200 years to now, it is still original with nearly 140 small and large constructions.
The Citadel, square in shape, is almost 10km in circumference, 6m high, 21m thick and 10 entrances. On the top of the walls that surround it, 24 bastions are established for defensive purposes. Besides, the Citadel has an ancillary gate connecting the Tran Binh Bastion called the Thai Binh Mon (Peace Gate).
◊ Hoang Thanh (Royal Citadel or Imperial City)
The Imperial City is located in the centre of the Citadel where established highest offices of Viet Nam's feudalism and sanctums honouring the cult of decreased Emperors. The Citadel, also has a nearly square form, with more than 600m long for each side, built of brick 4m high, 1m thick, around which is ditched a system of protection trench. Access to the Imperial City can be made by four entrance gates. Royal Citadel consists of more 100 beautiful constructional works divided many sectors.
◊ Tu Cam Thanh (Forbidden Citadel)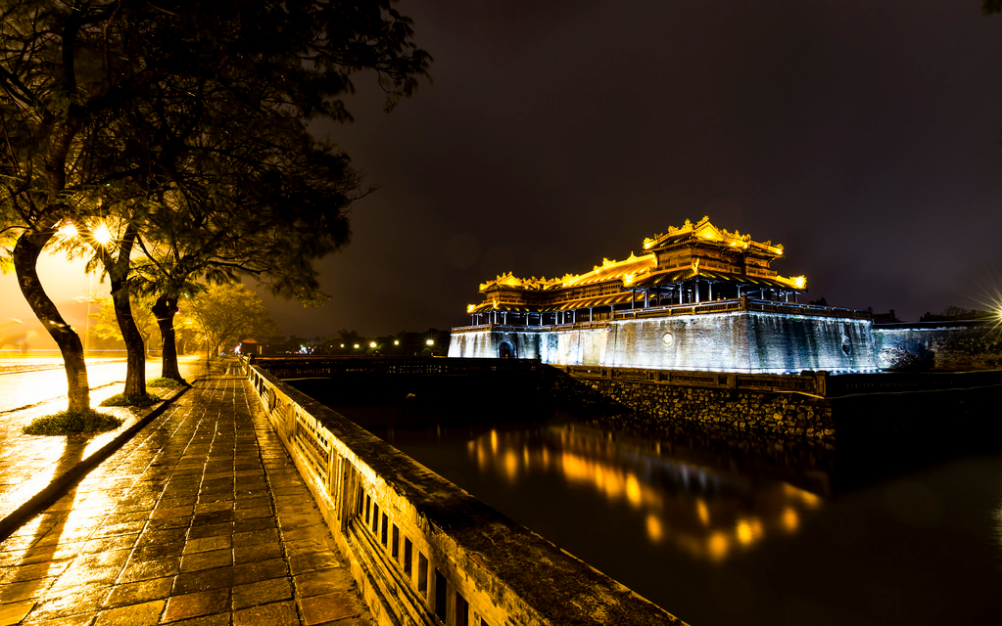 Located inside the Imperial City, behind the Throne Palace, the Forbidden Purple Citadel is reserved for Emperor and his family. Constructed early under reign of Emperor Gia Long in 1804 with brick walls of 3.72m high, 0.72m thick, about 1,230m in circumference. Its front and back sides are 324m each while either left and right side is more than 290m including 50 architectural constructions of different sizes and 7 gates for facilities of entrance and exit. Dai Cung Mon (the Great Palace Gate) is in the front side for the Kings. Can Chanh Palace (the place for daily working of Emperors). Can Thanh (Emperor's Private Palace), Khon Thai Residence (Queen's Private Apartment) reserved for the Queen. Duyet Thi Duong house (Royal Theatre), Thuong Thien (the kitchen for the Kings' food), Thai Binh Lau (King's reading room)…
In addition, there are also famous royal tombs and temples of Kings Nguyen outside Hue Citadel. Seven tombs with different aspect are not only a wonderful arch but also combining beautiful, imposing nature and poetic of Hue. Ancient Hue including Perfume River and Ngu Mountain, palaces and citadels, tombs and temples with hundred of historic years are being embellished and recovered by material contribution of Vietnamese and International community in order to keep Hue City as World cultural heritage.
6. Bach Ma National Park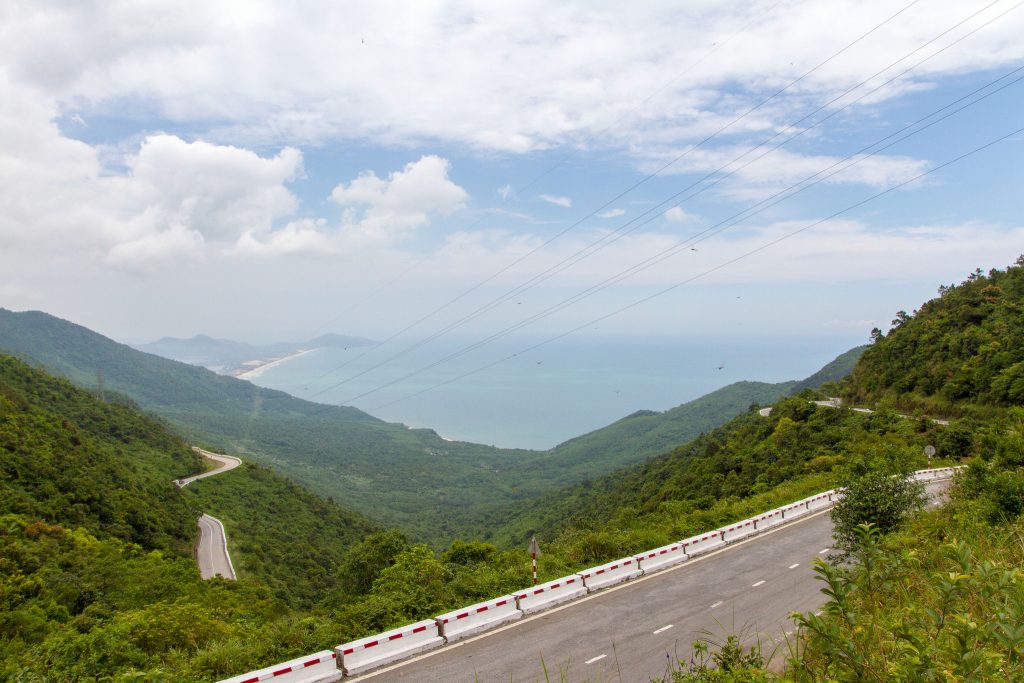 Location: Bach Ma National Park is approximately 50km south of Hue
Characteristics: Bach Ma National Park is endowed with fascinating natural scenery, fresh and cool climate, and diversified flora and fauna.
Bach Ma National Park has the temperate climate much like that of Da Lat, Sa Pa and Tam Dao. However, since it is located so close to the sea, the temperature in winter never goes below 40C (39.20F) and the highest temperature in summer never exceeds 260C (790F).
◊ History of Establishment
Given these advantages, the French transformed Bach Ma into a summer resort in the early 1930s. The area comprises 139 villas and auxiliary buildings, such as the post office, bank, tennis court, etc. Unfortunately, the war and lack of maintenance have significantly affected these constructions.
In 1986, after 10 years of reunification, the State established a network of 87 natural reserves including Bach Ma. On 15 July 1991, the Bach Ma National Park was officially founded.
◊ An Ideal Ecotourism Destination
Bach Ma has breath-taking natural landscapes. The highest peak is Hai Vong Dai (Sea Observation Post), 1,450m high, where people can have a panoramic view of the immense sea and surrounding scenery. Do Quyen Waterfall is astounding and huge in the wooded mountain. It is more than 300m high and 20-30m wide. It is amazing to watch the silver water running into the bright red of water-rail flowers. Bac Chi Waterfall, about 20m high, roars all year round. Five lakes – a system of large lakes has clean and cool water, created by the block of black granite stretching along Kim Qui Spring. This is a good place for camping, bathing, and outdoor activities.
Still, the beautiful National Park houses 1,493 species of animals of which 83 wildlife species, including tigers and monkeys. It is also home to 358-odd species of birds known to inhabit Viet Nam. More than 2,147 species of plants of which 86 species have also been identified.
Apart from ecotourism, the Bach Ma National Park has an advantage of being close to Viet Nam's three world cultural heritage sites (Hue Imperial City, Hoi An Ancient Town and My Son Cham Towers). So, tourists usually add the park to their itinerary.
With highly-valued natural resources, Bach Ma does not only gratify thousands of visitors but also attract scientists.
The best time to visit Bach Ma is from February to September. It is open from 7am to 5pm.
6. Thien Mu pagoda – The oldest pagoda in Hue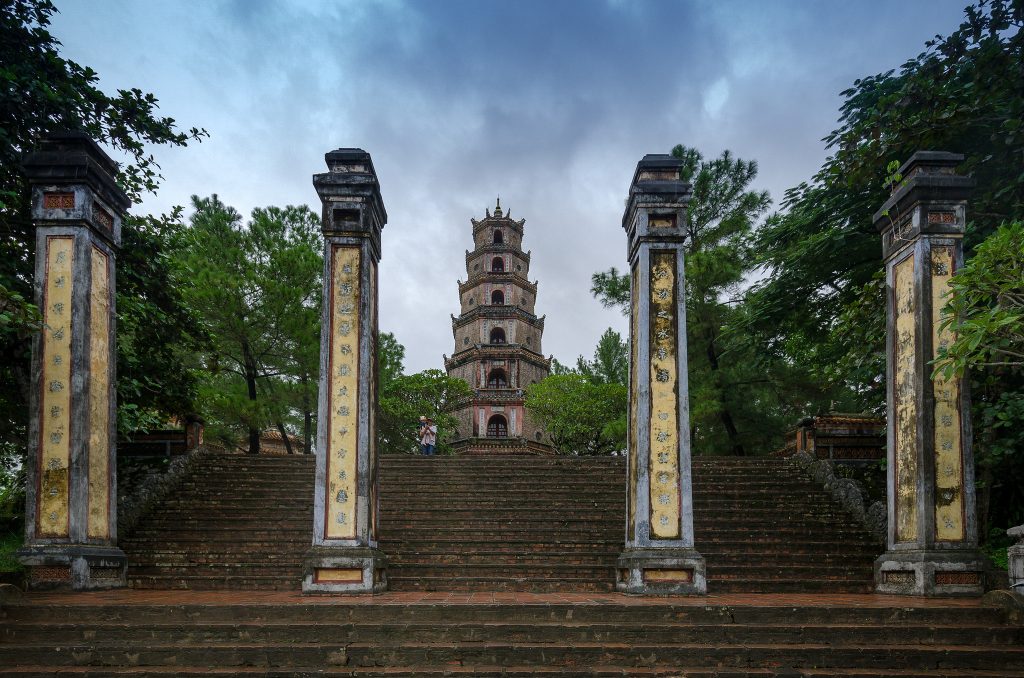 Located beside the picturesque Huong River, Thien Mu Pagoda, with its ancient architecture, adds its charm to this beautiful natural setting. The sound of Thien Mu bell is like the soul of Hue, ever resounding over the Huong River flow winding its way in front of the Citadel to the sea, resonating in the hearts and minds of the people and of visitors to Hue, the ancient capital.
The oldest pagoda in Hue is Thien Mu Pagoda whose establishment is associated with the early actions of the first Nguyen Lord in Dang Trong (South Vietnam).  This legend relates how, when Nguyen Hoang was sent to Thuan Hoa (now Central Vietnam) to rule this area, he himself made a survey of the terrain to choose a site for settling down. As he rode his horse upstream along the Huong River side he saw a small hillock beside the river, whose terrain looked like a dragon turning its head back. This hill was called Ha Khe. The local people told a story that every night an old lady in a red blouse and green trousers appeared here saying that a true Lord would come to this place and build a pagoda for the prosperity of the country. Thus this place became known as Thien Mu Son (Heavenly Lady Mountain).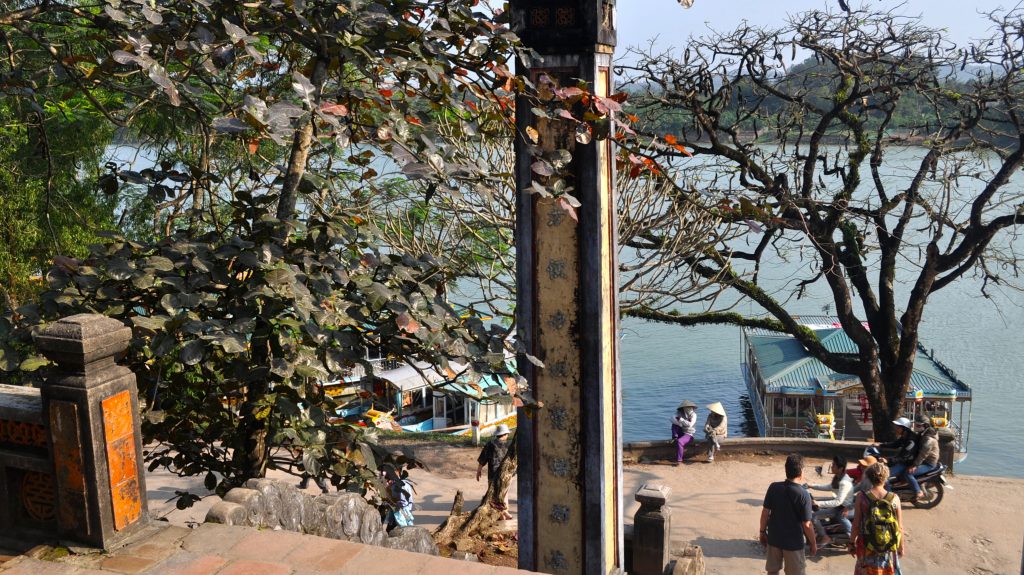 Thien Mu Pagoda was ranked one of the top most beautiful landscapes in Hue with the poem Thien Mu chung thanh, composed by the emperor Thieu Tri, inscribed on the stone stele set near the Pagoda gate. In 1862, during the reign of Tu Duc, who prayed for a child, the Emperor was afraid that the word Thien profaned Heaven because it means heavenly.  So Tu Duc renamed the Pagoda as Linh Mu which means Holy Lady. It was not until 1869 that the Emperor allowed the reuse of the old name Thien Mu meaning Heavenly Lady. The Pagoda is still known by both names today.
In 1904, a terrible storm seriously damaged the Pagoda. Many structures were ruined and Huong Nguyen Temple was destroyed. Through many re-constructions and restorations Thien Mu Pagoda still retains valuable architectural structures such as Phuoc Duyen Tower, Dai Hung, Dia Tang and Quan Am temples, the stone steles and bronze bells.  Thien Mu Pagoda is also home to many valuable antiques of both historical and artistic value and importance, such as the statures Ho Phap, Thap Vuong, Di Lac Buddha, the three Buddhas symbolizing Past, Present and Future Lives, lacquered boards and panels with parallel texts that mark the glorious periods in history of the Pagoda.
The Pagoda is surrounded with a garden of flowers and plants that are carefully tended every day. There is a bonsai of the ancestor of Vietnam Tuong (Classical drama), Dao Tan, situated next to the car left in 1963 by the Superior Buddhist monk, Thich Quang Duc, before burning himself to protest the policy of Ngo Dinh Diem regime in suppressing Buddhism. At the end of the garden is the Tower of the Superior Buddhist monk Thich Don Hau, a famous head of Thien Mu Pagoda who devoted his whole life to the promotion of Buddhism and the good of society.
7. Hue Special Foods
The ancient Hue is also famous for food. Below are some special food: