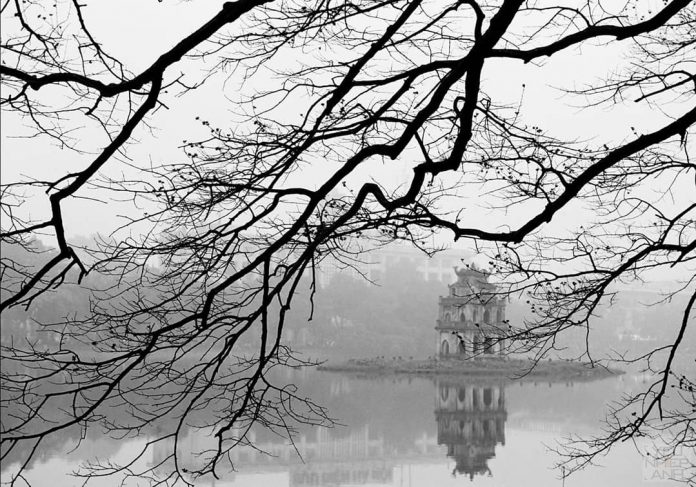 Hoan Kiem Lake (Ho Guom) is not only a cultural and historical symbol of Hanoi capital but also a must visit destination for domestic and foreign tourists when traveling to Hanoi.
Location of Hoan Kiem Lake
Hoan Kiem Lake is located in the heart of Hanoi capital, and surrounded by 3 streets of Hang Khay – Le Thai To – Dinh Tien Hoang. This place is suitable to visit at any time of the day. Due to its prime location, it is the connection between the old quarter such as Hang Ngang, Hang Dao, Cau Go, Luong Van Can … and the Western Quarter is Nha Tho, Trang Thi, Hang Bai, Trang Tien and Hang Khay …
History of Hoan Kiem Lake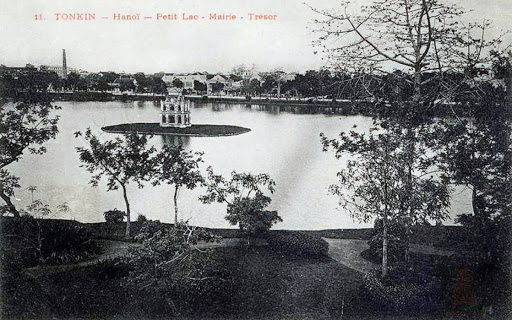 In the past Hoan Kiem Lake was a distributary of the Red River flowing through the position of today's streets such as Hang Dao, Hai Ba Trung, Ly Thuong Kiet and Hang Chuoi. Then flew to the main branch of the Red River. The widest part of this distribution forms the current Hoan Kiem Lake. Before the offical name Hoan Kiem lake has name as Luc Thuy (because it's green water). Another name is Thuy Quan Lake (because this is where the royal court used to browse the marines …) or Thuan Thien lake. In the 16th century, the Hoan Kiem lake was spilited into Ta Vong (right of Vong lake) and Huu Vong (left of Vong lake). In 1884, the Huu Vong was filled by French, so Ta Vong was renamed as Hoan Kiem lake until now.
>> Read more: Hoan Kiem lake in the past
Legend of Hoan Kiem lake
In the 15th century, Le Loi became an emperor of Vietnam and founder of the Le dynasty. According to legend, Lê Lợi had the sword named Heaven's Will given to him by the Golden Turtle God.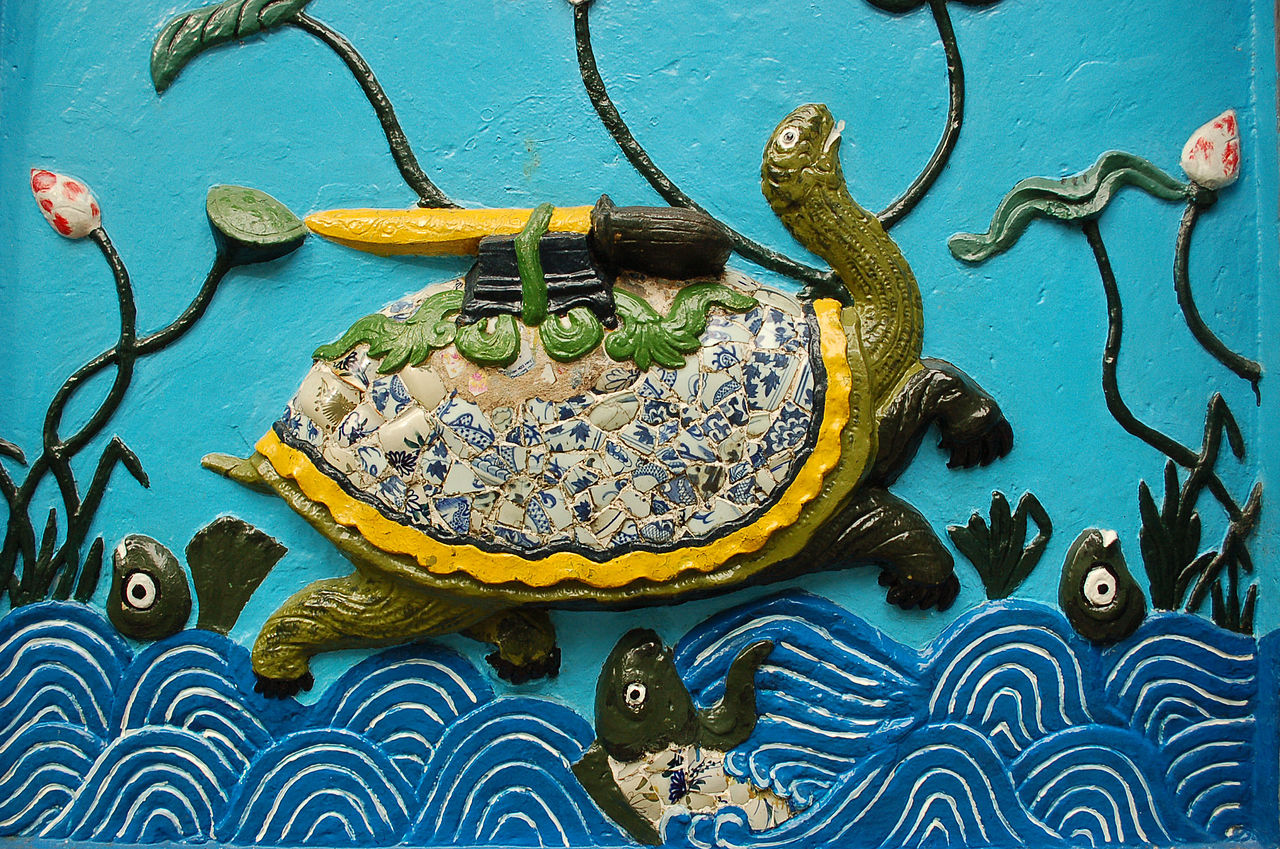 One day, after independence, Lê Lợi was out boating on the lake. Suddenly the Golden Turtle God surfaced, prompting Lê Lợi to return Heaven's Will and thanked the divine turtle for its help. The Golden Turtle God took back the sword and disappeared into depths of the lake. Lê Lợi then renamed the lake into Hoan Kiem (or Hồ Gươm – Sword Lake), meaning "The Lake of the Returned Sword".
From that time, Hoan Kiem lake became not only a sightseeing place, it became a spiritual place of Hanoians.
Hoan Kiem lake turtles (Cụ Rùa)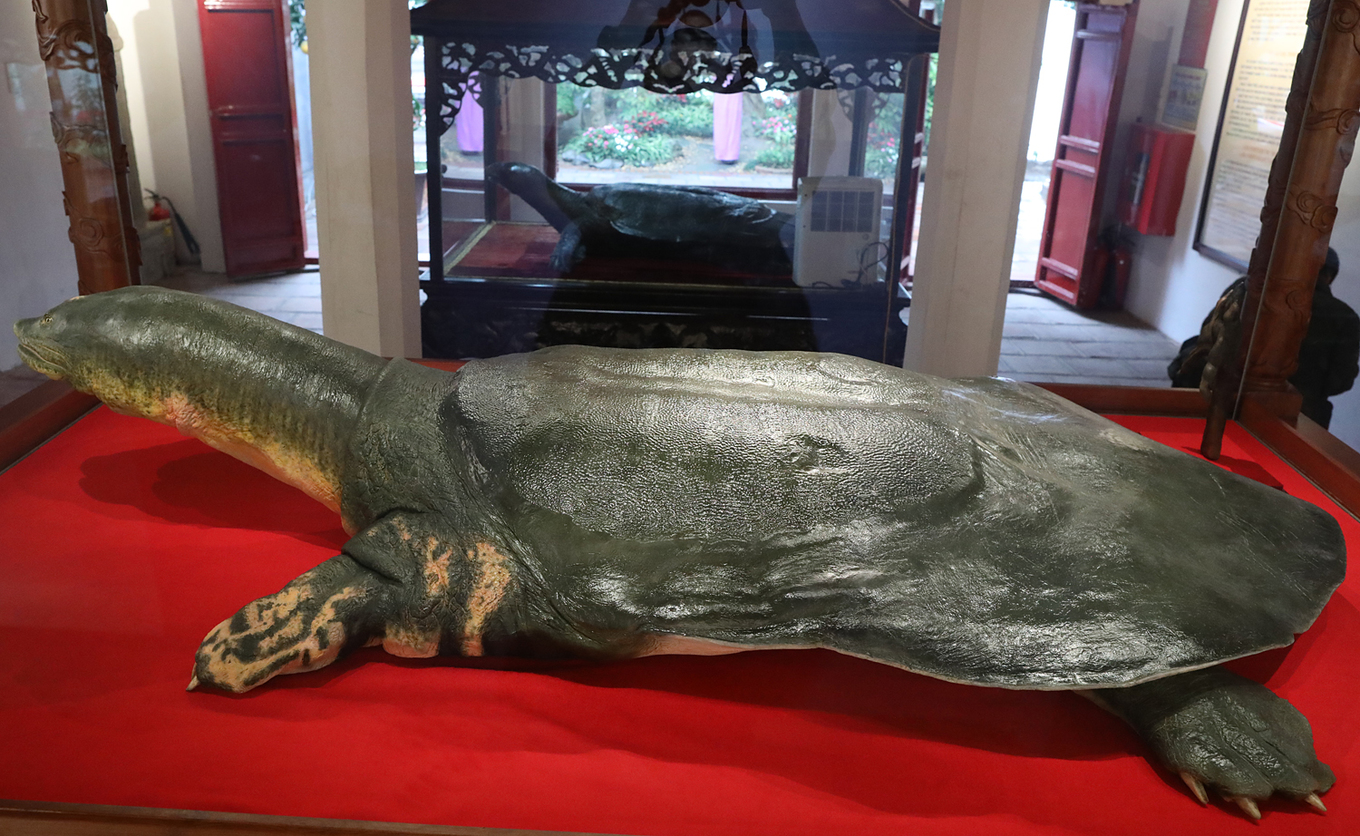 There were 2 giant turtles used to live under the water of Hoan Kiem lake. Many people said that, these turtles were from king Le Loi (in 15th century). It means they were hundreds of years old.  Anytime the turtles surfaced, people thought it was a spiritual event. The last turtles died in 2016 after a big rescue. The bodies of these turtles are now displayed in Ngoc Son temple.
>> Read on New York Times about the rescue of Cụ Rùa in 2016
Transportation to Hoan Kiem Lake
If visitors stay around the Old Quarter, just few steps to Hoan Kiem lake. Visitors stay far from the center can travel by other public transportation such as taxis or buses. The bus routes go through Hoan Kiem Lake are number 09, 14 and 16 with a frequency of 15-20 minutes / time and operating time from 05:05 to 21:05.
With independence foreigners, taxi is the best vehicle to Hoan Kiem lake. If you need a private car, please contact Asia Unique Travel. We have 4-45 seats car with trusted price and trusted drivers.
Hanoi Private Transfer Services by Asia Unique Travel
Attractions around Hoan Kiem lake Ngoc Son Temple
Ngoc Son Temple is one of the destinations not to be missed when traveling to Hanoi. Located on an island of Hoan Kiem Lake, this temple is connected to the shoreline by The Huc bridge. Coming here, visitors will have chance to admire the masterpiece of the temple as well as look at the Hoan Kiem lake in wonderful view.
Turtle Tower (Tháp Rùa)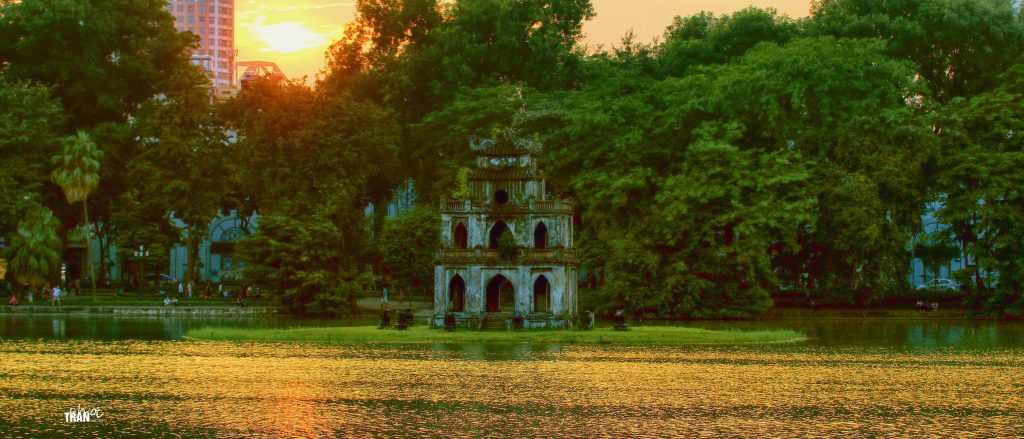 The Turtle Tower is located on a mound in the middle of Hoan Kiem Lake. In the past this mound was a place where king Le Loi coming here for fishing. In 1886, the area around Hoan Kiem lake was managed by a man name Nguyen Ngoc Kim. Kim built a tower in this mound to bury his father. His burial action was not allowed but the tower was still being kept until now. The 3-levels tower becomes a signature of Hoan Kiem lake with many beautiful photos.
The Huc Bridge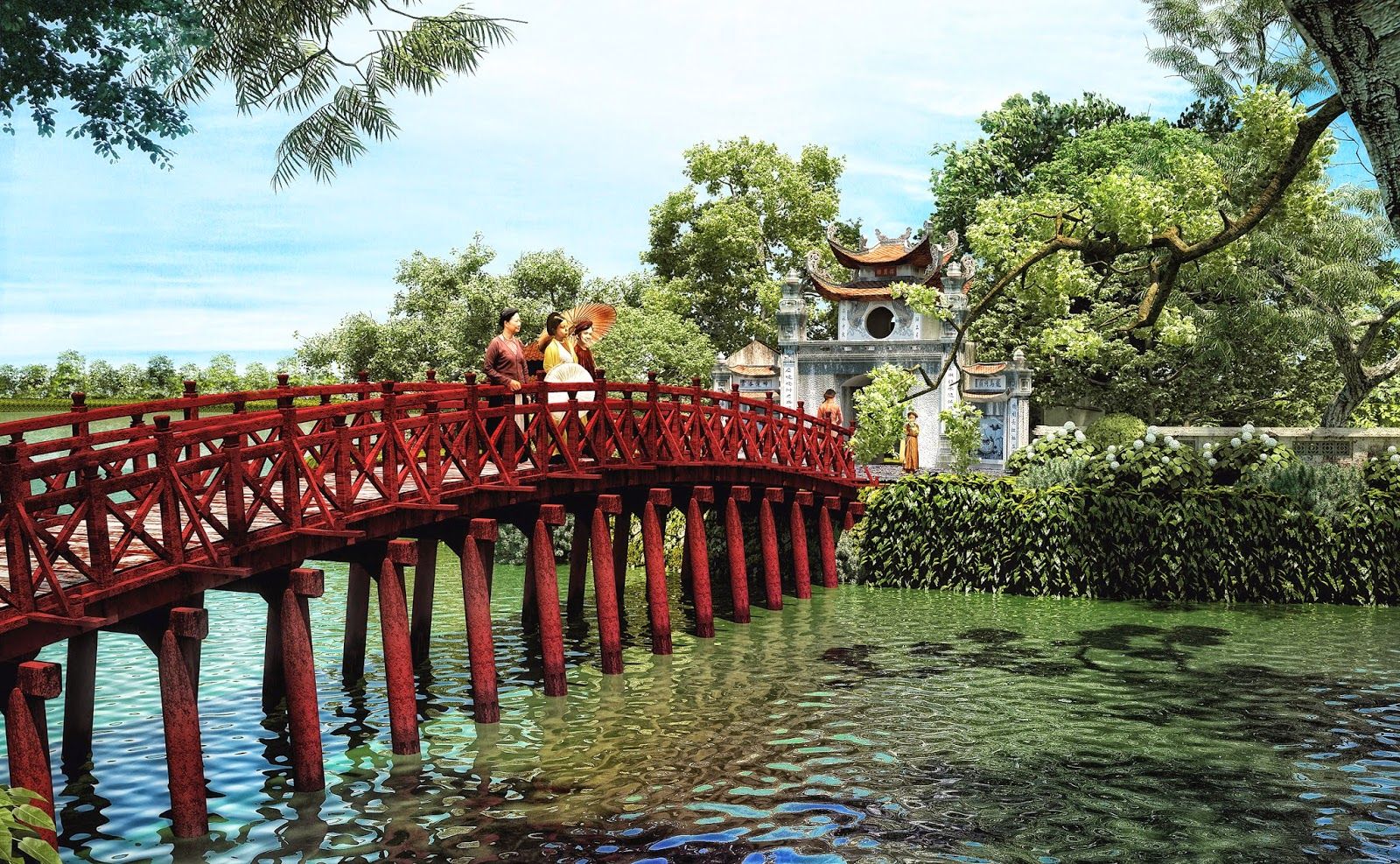 Along with Ngoc Son Temple, The Huc Bridge is a symbol of the charming beauty of Hoan Kiem Lake. The bridge has a "shrimp-shaped" bend, made of wood and painted in red (the color of lucky life).
Ly Thai To square (Ly Thai To flower garden and Ly Thai To statue)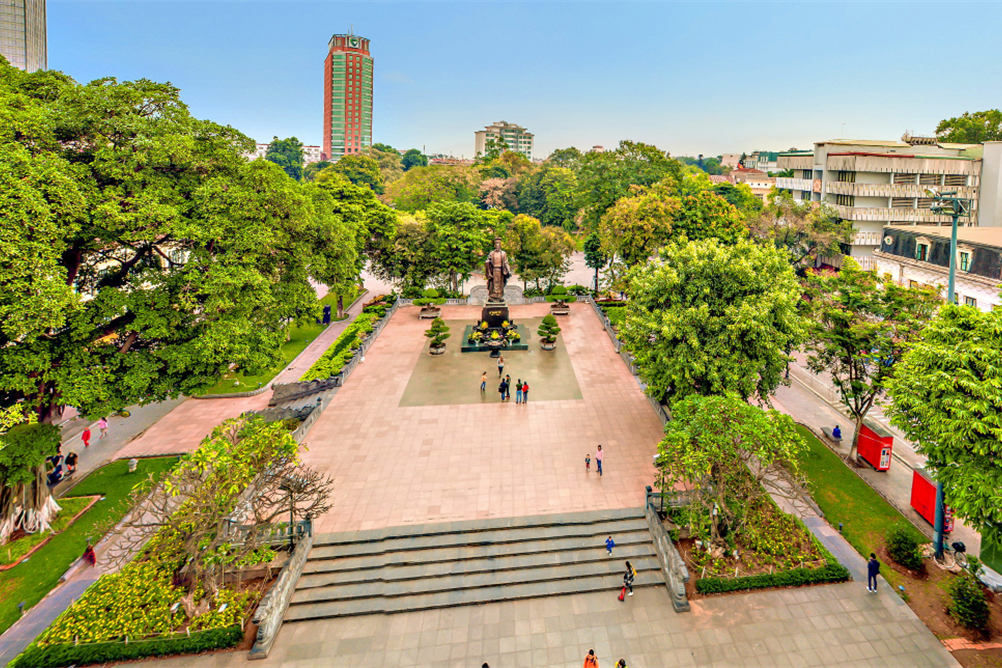 The statue of King Ly Thai To is located at Ly Thai To flower garden, Dinh Tien Hoang street. The statue was made by copper, 32 tons weight. This work was built to commemorate and honor King Ly Thai To – the first king move the capital to Thang Long-Hanoi thousand years ago. This square is a place where to hold many important events of Hanoi or team building activities.
Hanoi Old Quarter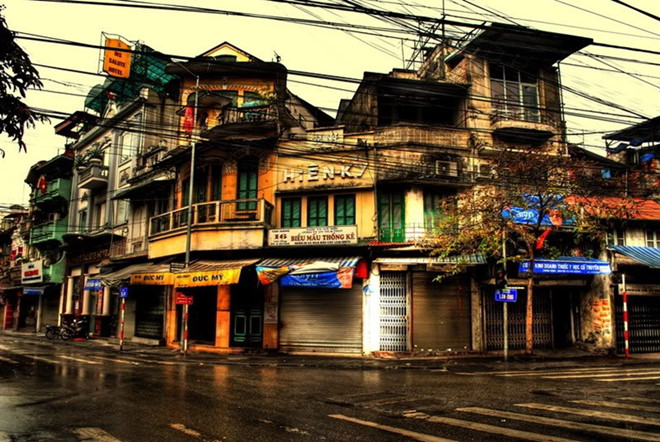 Besides Hoan Kiem lake, Hanoi Old Quarter is a crowed place has been developed from hundred years ago.
Read more: https://www.asiauniquetravel.com/travel-blog/hanoi-old-quarter-a-place-must-visit-to-hanoi/
Walking street around Hoan Kiem lake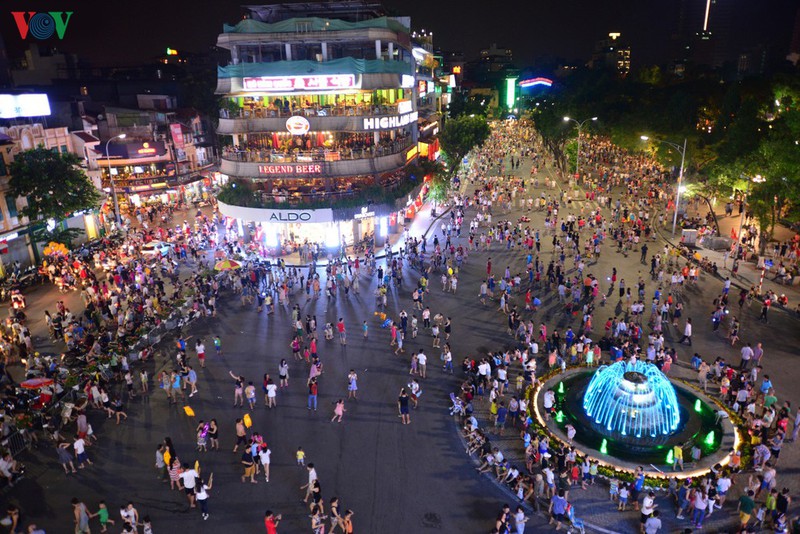 The walking streets around Hoan Kiem lake are open in weekends, are space for culture and art with many interesting activities. Hanoi desires to turn its walking area into a special space, introducing visitors to a capital city full of arts and culture, from traditional to contemporary styles, while creating a push for the city's tourism sector.
>>Read more about travel guide of Walking Streets Hanoi
Thang Long Water Puppet Theater 
Located in 57B Dinh Tien Hoang street, this is one of the most famous traditional puppet theaters in Vietnam. Theater was founded in October 1969 under the investment direction of the Committee and the Department of Cultural and Sporting Tourism Hanoi. Over nearly half a century of formation and development, from an art group only 9 actor graduated Art Hanoi, this theater has two union actors and departments function, with a force of officials, artists, actors, technicians … were formally trained, qualified professional, dynamic, creative and full of enthusiasm. They can take on many roles, many performances, … par with international puppetry artists. Many artists served as managers, author, director, activist theater …
If you are finding a professional travel operator for Hanoi City Tour, please refer Asia Unique Travel services at: Hanoi City Tours
Or you just only need a private transfer to visit Hanoi. Please refer our transfer services at: Hanoi Private Transfer Services