Duration: 16 days 15 nights

Start: Hanoi / Finish: Luang Prabang

Destinations included: Hanoi – Tho Ha – Ha Long – Hue – Hoi An – Saigon – Cai Be – Can Tho – Chau Doc – Phnom Penh – Siem Reap – Luang Prabang
This tour is special customize for travelers who love cuisine or would like to discovery Asia culture via their foods. When you visit a new country you like to immerse yourself in the culture, one of the best ways is eating the food that the local people eat. We would like to recommend you a whirlwind tour of Cambodia, Laos and Vietnam and are very pleased to manage to eat or drink something new to me each day of the holiday, some things more unusual than others! Here are the wonderful things you should try.
Soaking up and enjoying the street food in the hustle and bustle of Hanoi's Old Quarter

Visiting a rural village out of Hanoi to experiencing rural life

Spending time on a junk in romantic Halong Bay and enjoy fresh seafood

Biking through the peaceful path of Thuy Bieu village

Strolling through the lantern-filled streets and riverside promenade of Hoi An Ancient Town

Feeling the metropolitan pulse of Ho Chi Minh City and experiencing its highlights

Boating through Mekong River to discovery the floating market and islets.

Visiting one of the biggest food market in the Mekong delta

Enjoying the special and strangle foods in Cambodia

Cycling and enjoying special food at the ancient Luang Prabang

Bring home your own recipe of special foods in Indochina at a few cooking classes
Carefully selected accommodation with breakfast

Other meals listed in the itinerary

Expert English-speaking local guide

Tours as mentioned and air-conditioned transfers

Sightseeing and permit fees during guided times

Boat cruises and rides while on tour

Flights to tour destinations (Economy Class)

Service charges and government VAT tax
Day 1: Hanoi arrival – street food by night
Welcome to Vietnam! Upon arrival, your guide will be waiting to transfer you to your hotel.
Refresh until the sunset time. We transfer to Long Bien bridge for capturing and watching the sunseton the Red river peaceful countryside and the historical and legendary Long Bien bridge.
Then your guide will take you on a culinary as well as local life adventure in the Old Quarter.  Let's stop at Bia Hoi corner to try the local brew, a draft beer that traces its roots to Eastern Europe. Do as the locals do and pull up a stool and enjoy a drink while watching the world go by. You will also have oppotunity to see the busiest time of local life here.
Then, walking through the maze of bustling streets that make up Hanoi's Old Quarter, we tempt our taste buds with the famed Hanoi dish Banh Cuon at a local eatery. Watch in awe as the skilled chefs demonstrate for you how this tasty dish is put together. Continuing into the atmospheric heart of the Old Quarter, we wander past street stalls and quiet residential lanes where you can observe local life that has changed little since Hanoi was founded over 1000 years ago. Our next two snack stops are at outdoor barbeque stalls. We sit down with the Hanoi locals and sample various meat, vegetable and bread specialties that are flame grilled over hot coals for extra flavor. It's then time for dessert as we venture down a small alley to join in the local tradition of feasting on fresh fruit served in a cup and smothered with crushed iced and condensed milk (To Tich) – this specialty is one not to be missed
Accommodation: Hotel in Hanoi
Meals: Dinner (street food)
Day 2: Hanoi cooking class – walking tour
Don't just eat Vietnamese food, learn to cook classic dishes yourself during a cooking class in Hanoi. In a small group limited to 10, you'll receive personalized attention from your guide as you buy ingredients from a local market and create traditional Vietnamese dishes. Plus, a morning or afternoon class lets you slot this into any schedule, and hotel pickup and drop-off make things extra convenient.
Depending on the departure time selected at checkout, your guide collects you from your hotel in the morning or afternoon. Head straight to a local market to purchase ingredients for the class and learn about produce integral to Vietnamese cuisine.
In the kitchen, you'll prepare and cook authentic dishes, such as spring rolls, a salad of banana flowers, and barbecue pork with noodles and fish sauce. Once you've finished cooking, you'll sit down to feast on the fruit of your labors, accompanied by unlimited beer and wine. Once you've eaten your fill, your class concludes with hotel drop-off.
After lunch, get the cyclo through the Quarter's 36 streets named for the products historically sold here. Stop at some of the only remaining streets that continue selling the goods of their namesake, including Tin and Bamboo Street. Continue by strolling your walk to Hoan Kiem lake. Sitting down and sipping on delicious egg coffee. It is made with rich Vietnamese coffee and whipped egg yolk tastes just like liquid tiramisu. End the day, enjoy a water puppet show for a look at traditional performance art in Vietnam before heading back to your hotel.
Accommodation: Hotel in Hanoi
Meals: Breakfast, Lunch
Day 3: Tho ha village half day tour
9.00AM: Pick up at your hotel and head for Bac Giang province, it takes over one hour. It is good chance for sightseeing the countryside scenery, farmers are working on the green field with water buffalo.. Crossing Cau River by local ferry, we will walk around to visit local families of Tho Ha village and learn more about the local culture, have talk and see the local with their daily works.
Discover Tho Ha village through narrow and zigzag alleys with the old houses had been constructed from broken part of terracotta from the past. Walking over village cemetery to the dike, where you can see the village from distance over the beautiful lake. Tour in Tho Ha is now known for rice wine or cassava wine and rice paper cakes, and most recently the village's special brick walls have attracted many film producers, painters, photographers.
Have lunch at a local host with the rural family meal, also try the special rice wine, chat and learn about the local family life. Then moving to visit one pottery family and workshop. Tho Ha pottery used to be fired with dry grass, and then firewood and coal, see things remained from this traditional pottery producing village.
Driving back Hanoi, the rest of day is free at leisure.
Accommodation: Hotel in Hanoi
Meals: Breakfast, Lunch
Day 3: Hanoi – Ha Long
09:30 – 10:00 Pick-up at your hotel near by the Old Quarter in Hanoi by luxury shuttle bus.
12:00 – 12:30 Embark on the Perla Dawn Sails, enjoy a welcome drink and cruise briefing.
13:00 – 14:00 A splendid lunch is served while cruising into the primitive Lan Ha Bay.
15:15 – 17:15 Experience kayaking through the poetically beautiful Tra Bau area. Then enjoy swimming in the emerald water. Visiting a fish farm and socialize with the resident fishermen to learn more about local life and how the people work every day.
17:00 – 18:45 Return to the Perla Dawn Sails, enjoy "Happy Hour" drink time while taking part in the cooking demonstration.
19:00Delight in the shimmering atmosphere of thousands of stars while eating a fantastic, expertly prepared dinner on top deck of your boat, all while floating in the center of the serene Lan Ha Bay.
Accommodation: Overnight on cruise 
Meals: Breakfast, Lunch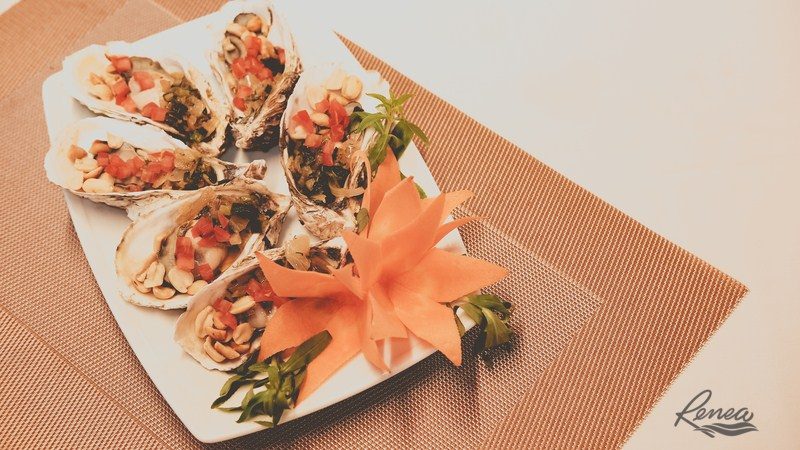 Day 4: Ha Long – Hanoi – fly to Hue
06:00 – 06:30 Begin your new day with a Tai Chi session or a photo hunt.
07:00 – 08:00 Enjoy breakfast in the fresh air and peaceful beauty of the Bay.
08:15 – 08:45 On a bamboo boat, visit Bright Cave and a serene round lake surrounded by rich forest and precipitous stone cliffs.
09:00 – 10:15 Pack your luggage and check out of your cabin while cruising towards the port.
10:30 – 11:30 Enjoy an extraordinary Buffet lunch.
11:45 – 12:00 Disembark the Perla Dawn Sails & Farewell.
14:30 – 15:00 Arrive in Noi Bai airport for taking flight to Hue.
Upon arrive in Hue in the evening, having a quick dinner with a bowl of Hue special -"Bun Bo Hue" before being transfer to the hotel for check-in and relaxing.
Accommodation: Hotel in Hue
Meals: Breakfast, Lunch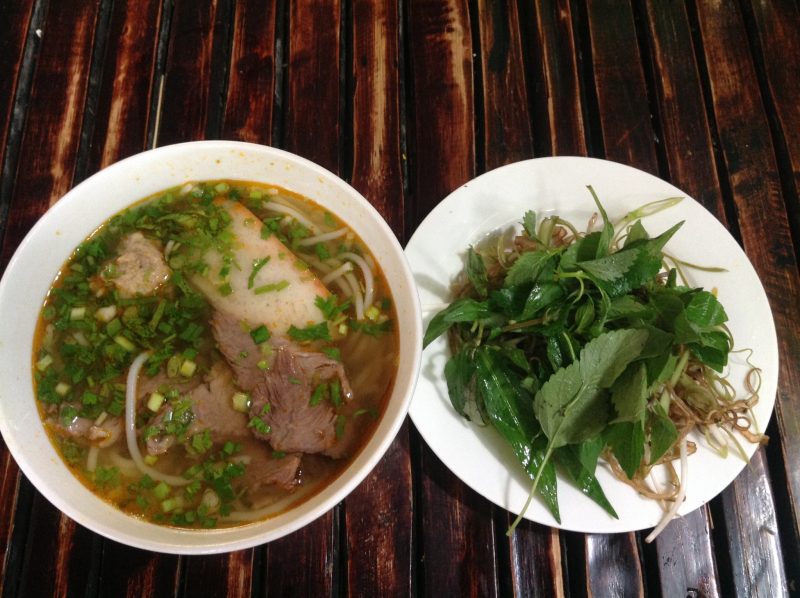 Taste of Indochina – Bun bo Hue
Day 5: Thuy Bieu village Eco & Foodie tour
8:00.am. Our guide will pick you up at your hotel in Hue. After briefing the Itinerary, he will teaches you some basic Vietnamese words to communicate with locals. Start Thuy Bieu eco village tour by cycling to Toa Kham boat station. Having 1 hour dragon boat ride on romantic upstream perfume river. It's time to admire the real lives of Hue people on the river banks.
9:30 am. Upon arriving Thuy Bieu Wharf, you will cycle through shady pomelo farm to the first place of Thuy Bieu eco village tour: Luong Quan temple. This is are presentative village hall construction that worshiping the Tutelary and ancestors who have found and lived here hundreds years ago. Visiting here give you the solemn and ancient feel. Also, you will be admired the yin-yang architecture, carving of dragon-horse shapes.
9:45 am. Visit incense making family to discover and experience the daily life of local people of Thuy Bieu village. They are working strenuously with the deep passion and enthusiasm. The incense sticks here are forming from different kind of aromas, including the popular agar wood, cinnamon and pine. In order to make good incense, they cover a small stick of bamboo which has been dyed and dried with a mix of scented powder. The products were handmade a long time ago and now people use machines to make more sticks to enhance quantity.
10:15 am. The next activity to do in Thuy Bieu eco village tour is visiting Ruong House. This is kind of apartment house in Thuy Bieu village Hue and also represents as the typical architecture of the city which has the system over 100 years old. The owner will introduce the house while we tasting green tea.
Also, at here you will have chance to experience making sesame candy with their exclusive method. The taste is really unique and delicious than anywhere. Then take a look around the local garden and enjoy various kinds of typical fruits of Hue and Viet Nam. Especially, visitors have chance to try sweet pomelo which boasts refined fragrance and green skin which used to offer to the royal family.
Enjoying local lunch at the local family after visiting Ruong House. The foods here are the special, traditional dishes which are really delicious with Hue foods. You will be totally enjoyed in such a simplest way. There are many types of specialties which are suitable for both vegetarian and non-vegetarian. It's time for you to have fun times and to chat with locals to know more about their daily life.
12:30 pm. Continue Thuy Bieu eco village visiting painting family to see the countryside painting art of the young local artists. The paintings here mainly reflect an aspiration for a peaceful, happy and prosperous life and often depict the animals in people's lives such as cows, pigs, dogs, cats and chickens. Obviously, you should not miss the chance to try your drawing talent to make your own painting products!
1:00 pm. Keep going on the trip to ancient Temple of Elephant in our interesting Hue bike tour. This is truly a unique relic of Hue city. According to legends, here is the where an elephant die after the death of his host.
1:30 pm. Visit Ho Quyen Arena, a real Colosseum – Roman arena within Hue city. The arena was built in 1830 with an aim for the entertainment of the Emperors, the royal family and mandarins.
2:30 pm. Cycling back to Hue city and drop at your hotel. Finish Thuy Bieu eco village tour by bicycle & boat.
5:00 pm. After picking you up, we cross Trang Tien historical bridge for a quick visit at Dong Ba local market to   be introduced to food ingredient of foods in Hue and explore local hurry life in the end of day. Try the typical Bún bò (noodle soup with beef pork or crab and grilled pork right in the market)
5:30 pm. We continue cycling along the Perfume river to see the life of boatman on dragon boat. Arrive the most famous garden restaurant and enjoy traditional foods:
6:00 pm. Cycle into Hue citadel to visit a workshop and enjoy Mè Xửng (sesame candy)
6:30 pm. Leave the citadel on Phu Xuan new bridge to enjoy Chè Hẻm (sweet soup)
7:00 pm. Continue the tour to enjoy Ca Hue (Hue folk music) on the Perfume River  that was once the elegant pleasure of princes and officials in the court of Hue. Flowing lanterns in a traditional blessing.
8:00 pm. Taking A cup of Vietnamese coffee with condensed milk or Beer at local pub (option) and finish the tour.
Accommodation: Hotel in Hue
Meals: Breakfast, Lunch, Dinner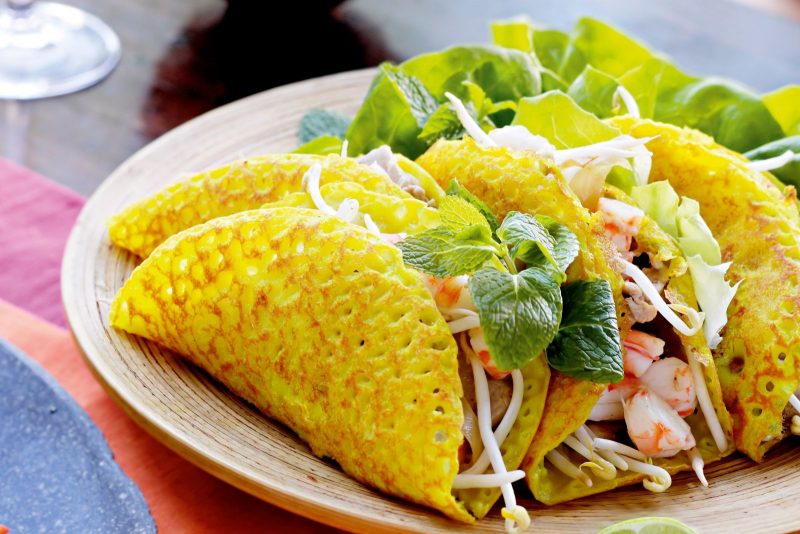 Day 6: Hue – Da Nang – Hoi An
After breakfast, we visit the ancient Imperial city – The Citadel Complex of Hue, set up by Nguyen Dynasty from 1805 to 1945, is now one amongst the relics of the Hue ancient Capital – the World Cultural Heritage, capturing much of tourists' attention.
Then leave Hue for Hoi An. On the way to Hoi An, you will pass by some stunning scenery such as the Hai Van Pass and Lang Co. We have lunch at a nice restaurant in Da Nang with special sliced pork rolled with rice paper.
Arrival Hoi An in the afternoon, check in the hotel and refreshing. When street vendors are starting business around 4.00PM, walking around the town. You will have opportunity to enjoy signature Hoi An street foods and off the beaten track sightseeing with our guide's supporting. You will discover a different Hoi An – not beautiful decorating restaurants, not expensive cloth shop…This tour is a delicious and fun way to explore Hoi An just like a local.
Accommodation: Hotel in Hoi An
Meals: Breakfast, Lunch, Dinner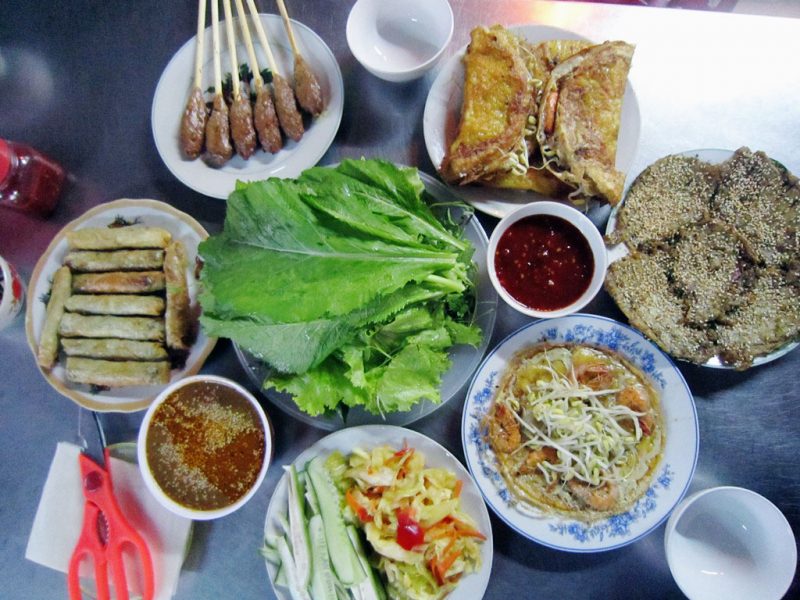 Day 7: Hoi An – Tra Que village – cooking class
Pick you up at the appointment by car to Tra Que village. Enjoying some traditional tea
Wearing traditional farming shirts, riding and taking photo shooting with buffalo. Joining with local farmers on the field: ploughing soil, harrowing soil, transplanting rice, scooping water with different scoopers (60 minutes). Back to a farming family. Learning how to make white cooking rice: grinding paddy by husking mill, winnowing rice, pounding & sifting rice; learning how to make rice milk and cooking rice cake. Having meal at the farm house with some specialties of the area: Fresh spring Rolls, Fried Spring Rolls, Banh Xeo (Local pancake), Steamed rice, Fish, Soup, Season fruits (45 minutes). Farewell the farm family. Leave Tra Que village to Hoi An Ancient town by car with tour guide.
Accommodation: Hotel in Hoi An
Meals: Breakfast, Lunch,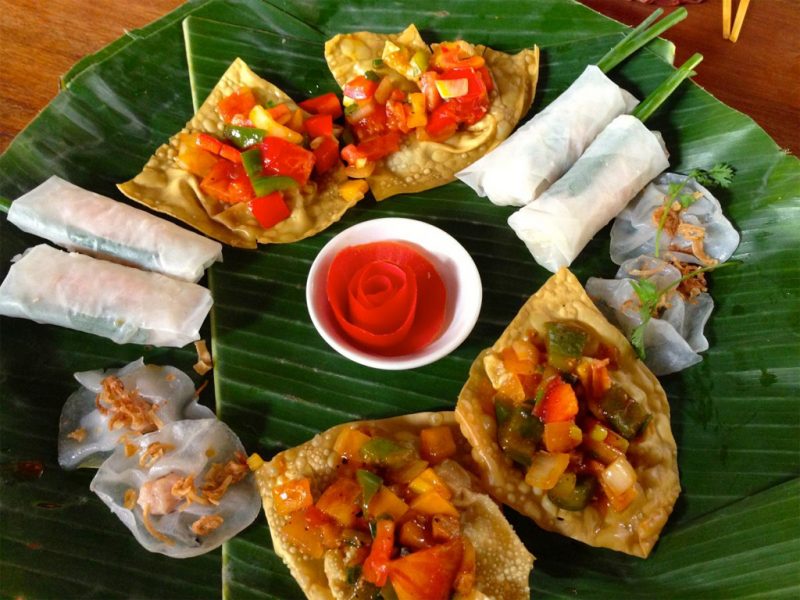 Day 8: Hoi An – Saigon
After your flight to Ho Chi Minh City, being pick up and transfer to your hotel and then start a day of exploring at the city's Central Post Office, next door to the iconic Notre Dame Cathedral. The tour continues with a stop at the Reunification Palace, where a North Vietnamese tank crashed through the gates in 1975 to end a war that killed an estimated 58,000 Americans and three million Vietnamese. Visit the War Remnants Museum for a harrowing look into the wartime hardships and atrocities.
In the evening, we head to the Saigon Opera House, to watch the spectacular A O Show. This performance is a showcase of Vietnamese culture and art, and combines, in beautiful precision, elements of both old and new. After the hour long show, take a short walk through the wide Boulevards of central Saigon to a nice Restaurant which is famous with a real culinary and architectural gem, tucked away from the hustle and bustle of District 1. You will get a memorable night in Saigon at this restaurant for the combination of contemporary Vietnamese cuisine and authentic French colonial architecture.
Accommodation: Hotel in Ho Chi Minh city
Meals: Breakfast, Lunch,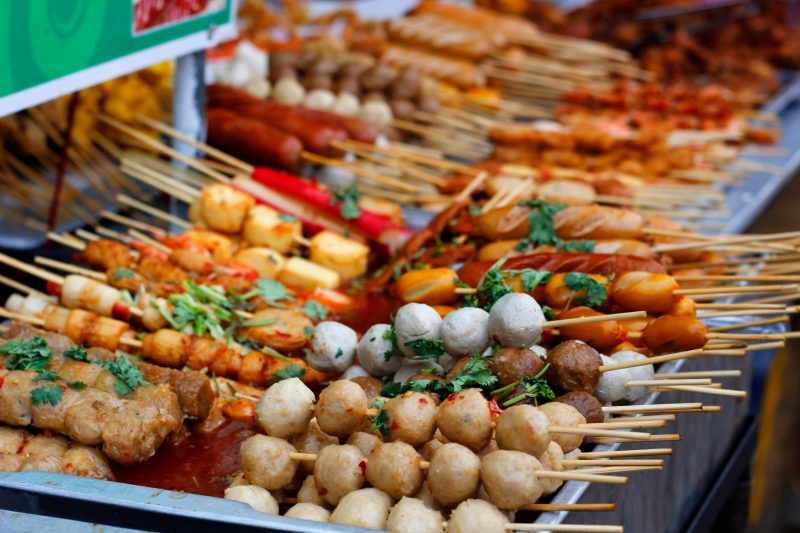 Day 9: Saigon – Ben Tre – Can Tho
This morning depart from your hotel and drive approximately two hours to Ben Tre, and a gateway to the delta. Here, you will board a small boat to start your sightseeing around the waterways of Mekong Delta. Known also as the rice bowl of Vietnam because of its large rice production, the area has also diversified into activities related to aquaculture, rearing of animals, cash crops and fruit trees.
Visit brick factory and board a small boat and meander through the canals and waterways and stop at a small homemade coconut processing plant to see how coconuts have been turned into oil, candy and woven mats that are later sold in the market. After the boat trip you will have a short walk to a local village to see mat weavers at work, before jumping on the deltas version of a tuk tuk and travelling down the country roads to the pier. Here you will board the beautiful teak boat Le Jarai to continue your cruise along the river. While onboard join in the demonstration of Vietnamese cooking before sitting down to a sumptuous three-course lunch of Mekong specialties. After lunch relax on the top deck and take in the scenery back to Ben Tre, where on arrival you will transfer to Can Tho in late in the afternoon.
Overnight in Can Tho.
Accommodation: Hotel in Can Tho
Meals: Breakfast, Lunch,
Day 10: Can Tho – Transfer to Chau Doc – food market
Rise early and travel by boat to the township of Cai Rang to see the hustle and bustle of a floating market. Watch as vendors hawk their wares from boats teeming with produce and buy a coffee from one of the floating cafes. Then, drive approximately three hours to the township of Chau Doc, a colourful and sleepy town near the Vietnam-Cambodia border.
This afternoon, we will discovery Chau Doc food market to try delicious local specialities, such as grilled glutinous rice filled with banana and other stall food in this busy fresh-food market. You also have chance to see the variety of goods such as fruit, vegetable, proceeded fishes, … provides a wonderful array of photo opportunities. It is one of the most worth food market to see in Vietnam.
Accommodation: Hotel in Chau Doc
Meals: Breakfast, Lunch,
Day 11: Chau Doc – Phnom Penh
After the breakfast at your hotel, taking speed boat to Phnom Penh.
Upon arrival, our tour guide is waiting you and transfer to the hotel.  Beside the city's most auspicious history, Phnom Penh's foods is also worth to discovery.
Start to visit the Royal Palace, built by King Norodom in 1866 on the site of the old town, and the Silver Pagoda. Located within the grounds of the Royal Palace, the Silver Pagoda is so named because of its floor, which is made up of 5000 silver tiles. The treasures found inside include a solid gold Buddha encrusted and weighing 90 kilograms and a small 17th century emerald and baccarat crystal Buddha.
Then, let's step out to a local market, try some tropical fruits, interesting desserts and maybe even some creepy crawlies. We then head to a delicious, traditional Khmer BBQ where we will eat dinner as the locals eat, washed down with the national beverage – Angkor beer! Be sure to come hungry and don't forget your camera.
Accommodation: Hotel in Phnom Penh
Meals: Breakfast, Dinner
 Day 12: Traditional breakfast – Phnom Penh – fly to Siem Reap (B/L)
You will be picked up at your hotel and taken to Urban Forage's favorite local market! During the morning you will have Cambodian cuisine explained, you will get to sample some delicious treats as well as have a traditional breakfast. After breakfast, drive to visit the notorious Killing Fields " ChoeungEk" 15km southwest of Phnom Penh. This one is the site of brutal executions of more than 17,000 individuals, most of whom first suffered through interrogations, torture and deprivation in ToulSleng Prison during Pol Pot regime (from 1975–1979). Then return to city centre to enjoy lunch at a local restaurant.
This afternoon, drive to the airport for the flight to Siem Reap. Upon arrival, meet up with the guide and transfer to the hotel for check-in.
Accommodation: Hotel in Siem Reap
Meals: Breakfast, Lunch,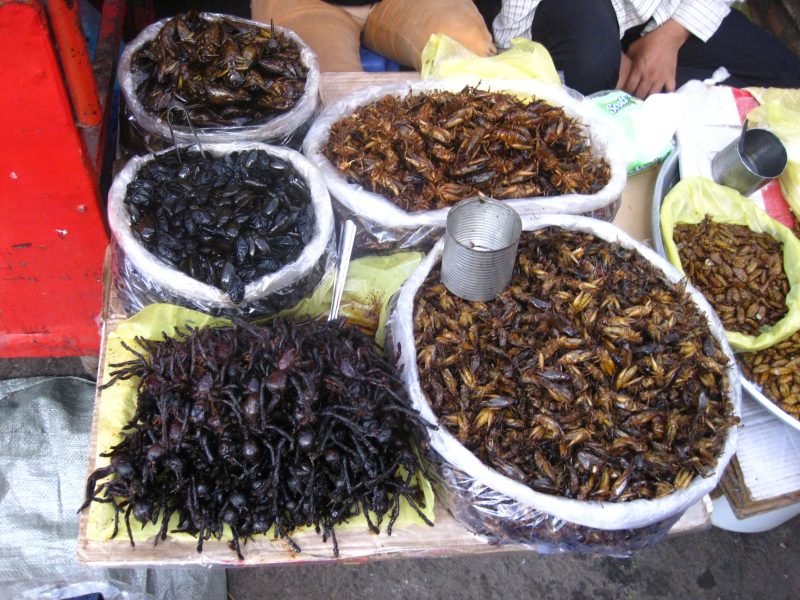 Day 13: Siem Reap – cooking class – sightseeing (B/L)
In the morning you may wish to wake up early and set out for Angkor Wat, in front of the water lily pond, enjoying the temple's reflection and the sunrise over the complex. Then, back to the hotel for breakfast. After breakfast, we get a friendly cooking class which takes place in a Cambodian family house of Siem Reap (Lily's house with garden). This isn't just a cooking class, this is a chance to enjoy a cultural experience away from the well beaten tourist path (authentic local market tour, etc.). Beyond the cooking experience, it is an immersion into Cambodian culture and a real family house. The cooking class will be finished by 1.00 PM
This afternoon, enjoy an elephant ride from the south gate of Angkor Thom and all the way to Bayon and circle around the Bayon temple (unique for its 54 towers decorated with over 200 smiling faces of Avolokitesvara). Continue, exploring the walled city of Angkor Thom, the royal city itself, covering four square miles and located in the complex's geographic center. Its 50-tower temple is an awesome sight. At first glance it seems a shapeless mass of stone, but further scrutiny reveals a face and then another and another until suddenly you are engulfed by the silent, heavy, enigmatic and silent gaze through half-closed eyes, staring out from a former time which now seems so remote. We then go on to the surroundings of the complex including the Baphou, Elephant Terraces, King's Terrace and Royal Palace area.
Accommodation: Hotel in Siem Reap
Meals: Breakfast, Lunch,
 Day 14: Siem Reap – Luang Prabang
Take morning flight to Luang Prabang. Upon arrival your guide will meet you at the airport and bring you to your hotel. Then enjoy a half -day spin around Luang Prabang…and you will understand why it deserves the World Heritage title! Visit Wat Visoun, the site of impressive Thad Makmo stupa. The rounded dome is stylistically more Sinhalese than Lao. Continue to visit Wat Mai. Built in 1796, the five-tiered roof of the wooden Sim (chapel) epitomizes the graceful Luang Prabang architectural style. Visit Wat Xieng Thong further emphasizes the uniqueness of Luang Prabang, its several roofs sweeping low to the ground. See also the impressive "tree of life" mosaic here. The gilt panel on the exterior of the chapel depicts semi-erotic episodes from the Ramayana.
Phou Si hill stands right in the center of this small city. Climb its 350 steps to enjoy commanding views for many miles in each direction. Wat Phou Si sits atop the mountain, alongside the skeletons of Indochina war anti-aircraft guns! Shopping night market, where hundreds of Hmong vendors display their handmade handicraft. Diner tonight on your own but our guide can recommend the nice restaurants in town for you. As the day draws to a close, it's time to polish it all off with something sweet. Let make your way over to Sisavangvong Road, where the local night market will be in full effect and crepe and fruit stands abound. In March, when mangoes are in season, try them over sticky rice topped with coconut cream or a freshly squeezed jujube and hibiscus flower smoothie. Khao gam, a Laotian specialty of purple sticky rice is served up with slices of fresh fruit.
Accommodation: Hotel in Luang Prabang
Meals: Breakfast, Lunch,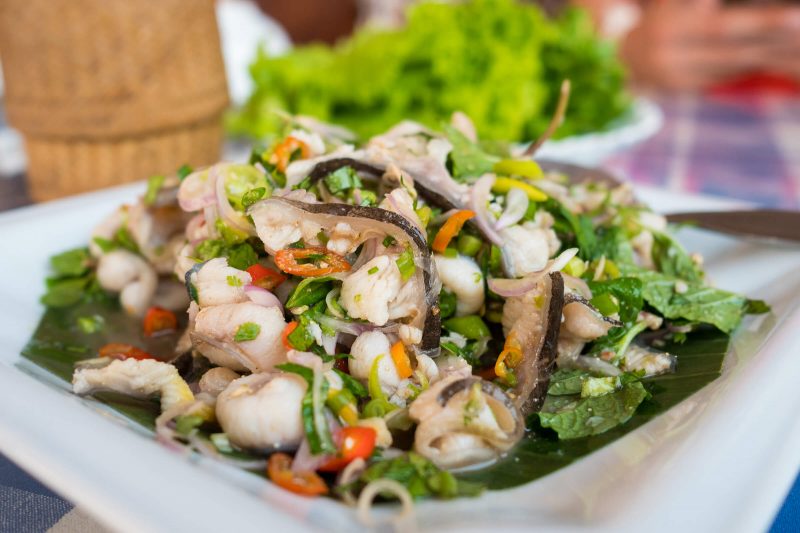 Day 15: Luang Prabang foodie & biking tour
This morning, ready with your guide to walk the nearby morning market, where locals from the countryside around Luang Prabang sell their goods. You will discover different meats, fruits, vegetables, herbs and spices. Some of them might be unknown to you and your guide will explain how they are used in Lao kitchen. We will sample a few local delicacies as well. We then walk to the most famous Lao coffee shop where we can sit by the Mekong River enjoying coffee and a local Lao pastry (Khanom). Then, take your cycle and ride a short way to the area of Ban Mano where we sit at a local restaurant and try a variety of food including Neam Khao (a rice noodle crepe, filled with minced meat and mushrooms and assorted herbs. It is cut in little pieces and comes with a dipping sauce containing minced nuts, lemon, chili, coriander and sweet fish sauce) and Khao Piak Khao (a local rice soup, that is usually eaten in the morning, slowly cooked with pork meat and meat broth, rounded with crushed black pepper and chopped coriander. Depending on your taste, an egg and / or fresh chili can be added to this meal).
After that you will drive across the "old" bridge to the other side of the Nam Khan River and stop at a local rice noodle factory to learn about the manufacturing process and continue back via the "new" bridge to the city center to visit a local " Kaw Chi " bakery, that supplies many street stalls and restaurants in town with their baguettes, a leftover of the French colonialism days. If the time is right, you may witness the bread being taken out of gigantic wood fired ovens.
It is then a ten minute drive to enjoy a game of " Petanque" or "Boulle", another French relict, that is quite popular amongst locals. You can try their menu, here yourself (not included in price). A chilled bottle of "Beer lao" goes good with both, the game and the food. But be aware that you have to cycle back after that. The tour ends with you returning the bicycles around 2pm.
The rest of day is free at leisure.
Accommodation: Hotel in Luang Prabang
Meals: Breakfast, Lunch,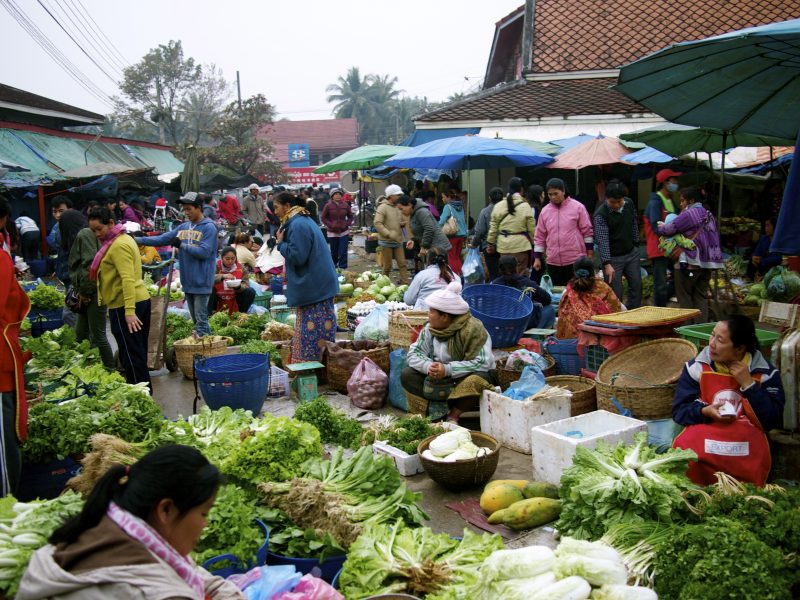 Day 16: Luang Prabang departure
After breakfast, relax before you transfer to the airport, or enjoy our optional program.
This is a sample itinerary. It is very flexible to be tailor-made to meet your expectation. Please leave message of your interest below and our travel consultants are pleased to customize the itinerary for you.