Duration: 12 days 11 nights

Start: Saigon / Finish: Hanoi

Destinations included: Saigon – Hoi An – Hanoi – Pu Luong – Ha Long

Price from: 1,680$/person
Across the region many of our favorite destinations have both fascinating historic sites to stimulate the mind and beautiful, relaxing resort-style accommodation to soothe the senses – the perfect combination for a wonderful wedding anniversary. Let's celebrate your special occasions with this trip in Vietnam, which is done in luxury and self-indulgence. There stand various luxurious and unique ideas for a couple to put into practice that makes you unforgettable memories.
Enjoy the romantic luxury dinner on cruise through Saigon river

Gliding through the waterways of the Mekong Delta, enjoying the slow rhythm of life

Strolling through the lantern-filled streets and riverside promenade of Hoi An Ancient Town

Experiencing the authentic cooking class

Soaking up the hustle and bustle of Hanoi's Old Quarter

Relaxing at the peaceful and beautiful Pu Luong retreat

Cruising on a traditional junk boat through scenic Halong Bay
Carefully selected accommodation with breakfast

Other meals listed in the itinerary

Expert English-speaking local guide

Tours as mentioned and air-conditioned transfers

Sightseeing and permit fees during guided times

Boat cruises and rides while on tour

Flights to tour destinations (Economy Class)

Service charges and government VAT tax
Day 1: Saigon arrival – Romantic Cruise dinner
Welcome to Vietnam! Upon arrival, your guide will be waiting to transfer you to your hotel.
Refresh after the long flight. This evening, transfer to Nha Rong port to embark Bonsai cruise for inventive and interactive dinner cruise was created to give you a memorable night. We whisk you away on a wonderful evening of wining and dining on a calm, cerulean river. A creative menu, an unparalleled atmosphere with musical highlights, and the energy of Saigon will add up to one unforgettable experience. Upper and lower decks of the vessel are dedicated to the buffet dining, while the terrace and sun- deck offer a panoramic view of the charming cosmopolitan Saigon skyline. You will have a romantic dinner to celebrate your first night of this trip.
Day 2: Saigon – Mekong delta
This morning depart bustle Saigon and drive approximately two hours to Ben Tre, gateway to the Mekong Delta. Here, you will board a small boat to navigate the waterways of the mighty Mekong. We will visits to some of the local industries including a brick factory and a coconut processing plant. After the boat trip you will have a short walk to a local village to see mat weavers at work, before jumping on the delta's version of a tuk-tuk and travelling down the country roads to the pier. Here you will board the beautiful teak boat 'Le Jarai' to continue your cruise along the river. After lunch relax on the top deck and take in the scenery back to Ben Tre, where on arrival you will transfer back to Ho Chi Minh arriving late in the afternoon.
This evening, enjoy your dinner on your own and have a drink at one of the best roof top bars for Saigon night life.
Day 3: Saigon – fly to Danang – Hoi An
This morning, take the flight to Danang. Upon arrival Danang airport, our tour guide and driver are waiting and transfer you to the peaceful Hoi An ancient town.
This afternoon, free strolling through Hoi An ancient town, sitting down somewhere to enjoy the local food or drink.
At the sunset time, it is perfect for a two-hour Romantic Sunset Dinner Cruise on the Rivers and amazing way to experience the beautiful landscape of Thu Bon and Hoai Rivers, the culture of the local fisher people living along the river banks. Let sip some cocktails together and relax over an unique experience to dine on the water while listening to music.
Day 4: Hoi An cooking class
This morning, you will do a meaningful activities that is a unique cookery class experience.  This class gives a fabulous insight into Vietnamese culinary skills in a friendly and relaxed setting.  You will learn to cook from an interesting selection of traditional recipes. You will then tour the local market with Van to buy ingredients and learn more about local produce.
Then we head back to Green Bamboo Cookery School to cook a variety of local dishes of your choice. You will have plenty of hands on participation. Afterwards share your creations and a drink together around Van's kitchen table! The school's location in the chef's beautiful home ensures a truly memorable Vietnamese experience.
The rest of day is free at leisure.
Day 5: Hoi An – Da Nang – Hanoi – walking tour
After breakfast at the hotel, getting the morning flight to Hanoi. Being picked up by our tour guide and transfer to the hotel in Hanoi Old Quarter.
This afternoon get the cyclo through the Quarter's 36 streets named for the products historically sold here. Stop at some of the only remaining streets that continue selling the goods of their namesake, including Tin and Bamboo street. Continue by strolling your wark to Hoan Kiem lake. Get a strong Vietnamese coffee at a café overlooking the Lake – an important symbol of Vietnamese folklore. Enjoy a water puppet show for a look at traditional performance art in Vietnam before heading back to your hotel for refresh and relaxing.
Day 6: Hanoi – Pu Luong retreat
8.00 Am: Leave bustling Hanoi city, drive to Pu Luong Nature Reserve by road via a breath taking mountain pass giving you a panoramic view of the whole valley. You arrive at your accommodation in time for a delicious lunch, followed by free time to explore the beautiful retreat, with its captivating panoramic views and tranquil setting.
In the afternoon, you will be transffed to a suspension bridge over the Cham River, where you begin your walk in search of stunning water wheels. Get up close to each wheel and discover how water is moved from river to handmade bamboo aqueducts via simple constructions of all sizes.
Arriving at a local fisherman's house, you have a short rest to gear up for the rafting adventure with Dinh and his team. Float along the calm river and enjoy the views, in between learning how to paddle and steer your handcrafted rafts.
Arriving at scenic Tan Lap bridge, you disembark to be transferred back to Pu Luong Retreat for dinner. Enjoy fresh and quiet area together.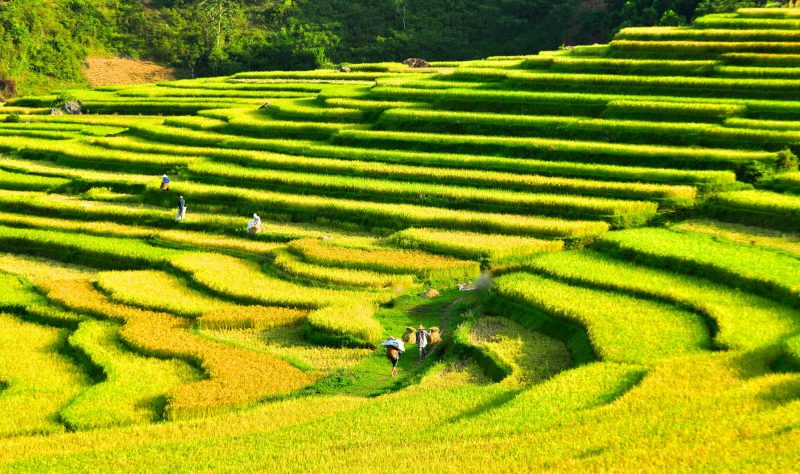 Day 7: Enthralling trekking routes
Start early to descend into the beautiful valley facing the Retreat where you walk around tumbling rice terraces. Trek through small paths shrouded in vegetation to slowly reveal a picturesque village sitting at the base of a towering mountain. Your camera will not be able to sit still!
Continuing to the base of the valley, you weave between roads and farm land, villages and wild fields, ponds and rivers, mountains and open land. Savour the ever-changing scenery as you trek to a beautiful spot to enjoy a simple picnic lunch.
After enjoying delicious food, you have free time to explore the refreshing water to the nearby river, before moving to pick up point to be transferred back to the Retreat.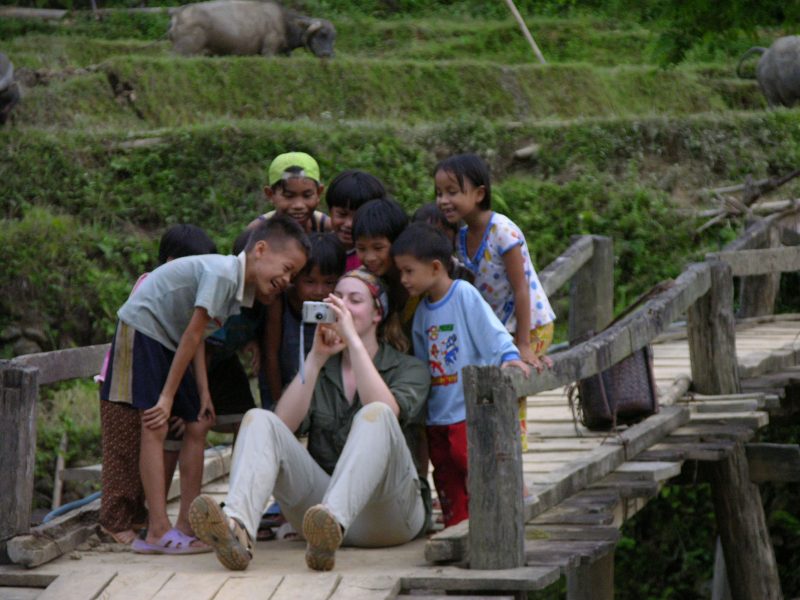 Day 8: Pu Luong – Hanoi
This morning, you can decide to free at leisure at the retreat to enjoy spa or you have the chance to get close to village life and interact with locals living in the hills above the Retreat. After lunch, we will drive back to Hanoi.
Day 9: Hanoi – Ha Long
8.00AM  Pick-up at your hotel and departing to Halong Bay with stopovers for refreshing en route.
12:00 Arriving and enjoying fresh tea at the cruise Lobby before check-in.
12:30 Entering the cruise via a private pier and being warmly welcomed by the crew. Enjoying welcome drinks when listening to the Briefing of the main Tour guide and check-in
13:30 Having a delicious Lunch while the Cruise goes ahead to the Bay. At your leisure after lunch to enjoy hundreds of limestone islands with various shapes. This is the best time to watch unparalleled scenery of Halong in a slow motion.
15:00 Arriving at Luon Cave by tender boat. We will discover the area's tranquility by kayaks or rowing boats. Relaxing on the kayaks and boats is a more brilliant way to really experience the special view of this sea.
16:00 Stopping over at Titov Island. We will have various choices to be by your own, having sunbath, swimming or conquering the peak of the Titov to admire the Bay's panorama (strongly recommended).
17:30 Going back to the boat for relaxation at the dusk. Enjoy FREE seasonal fruits on the sundeck. Other drinks will be subject to special rates or seasonal promotions.
18.30 Joining a cooking demonstration on the sundeck. Try to make it well and check how well you can cook or prepare for Vietnamese foods.
19.30 An elegant dinner with local gourmet will be served.
After dinner: Free choice of evening activities (movie watching, fishing tools and guitars, cards, etc. are all available). Some activities are to be ordered in advance.

Day 10: Ha Long
06:00 Waking up early for the morning exercise (Tai Chi Quan) or greeting the dawn on the ocean (exercises are upon desire)
07:00: Light breakfast will be ready with cakes, bread, tea and coffee, noodle soup, etc.
08:30 – 16:00 A sightseeing boat (without cabins) will pick you up to another part of Halong Bay. It will be the REAL time to watch Halong scenery in vaster area. Below are all activities you can join:
–  Discovery at Ho Dong Tien (Fairy Lake), one of symbolized images of The Bay, thanks to its beauty and rich value of geology, geomorphology and history.
–  Kayaking or swimming (depending on the tide & weather) around Trong (Drum) cave area, which are beyond expectation of those who love kayaking.
– Or just laying down at the beach and enjoy the seascape and your absolute leisure time.
We will end our visit of the day at one of the famous pearl farms in Halong, where we can see and learn an entire process of making pearl and expensive jewelry, from the first steps of feeding to harvesting.
– Having a rest with tea break on the way back to the main boat.
– Any activities can be skipped if you just wanna leisure time.
16:30 It is time to get back to the Cruise and recapture your energy.
17:30 Relaxing, enjoying sunset with free fresh fruits on the sundeck.
19:30 Having dinner in mellow sound of sea and music.
22:00 Overnight on the sea.
 Day 11: Ha Long – Hanoi
06:00 Waking up at dawn for morning exercise (Tai Chi Quan) or enjoying beautiful moments when a blazing sunrise breaks the clouds of the island on the bay (exercises are upon desire).
07:00 Light breakfast will be ready with cakes, bread, tea and coffee, noodle soup, etc.
07:45 Tender boat will pick us up to visit the Surprising (Sung Sot) Cave, discovered in 1901, and now being a must-to-see tourist attraction for its extensive space. After the rock formation and millions years of water erosion, the cave is now featured by hundreds of marvelous stalactites, stalagmites and grandeur stone chambers which are incomparable with any cave in Gulf of Tonkin.
(Shoes, sandals and convenient clothes are recommended to visit the Cave).
09:15 Coming back to our cruise for freshening check-out. Cabins will be cleaned up soon whilst we can enjoy drink and sunbath on the half-open-air sundeck of the Gray Line.
10:30 Enjoying a tasty farewell buffet lunch while the boat continuously cruises back.
11:30 Time for us to say good bye with the Crew, and give them feedback about the trip.
We can have some tea or other drinks at Lobby and wait for our shuttle bus (or private cars) to return to Hanoi
Free at leisure or shopping on your own until time to transfer to the airport for the flight back home.