Start: Hanoi/ Finish: Hanoi

Destinations included: Hanoi – Hoa Lu – Trang An – Hanoi
Trang An – Hoa Lu one day tour is truly the top choice to escape from the bustle and hustle Hanoi. Only over 2 hour driving you will get the historical and stunning landscape which is recognized by UNESCO as Natural and Cultural Heritage.
Getting knowledge  about the Vietnam history in Dai Viet Dynasty

Rowing boat through the beautiful and peaceful streams

Discover the breathtaking beauty of Trang An
Lunch as listed in the itinerary

Expert English-speaking local guide

Sightseeing and permit fees during guided times

Boat cruises and rides while on tour

Service charges and government VAT tax
After breakfast, leaving from the bustle and hustle city of Hanoi to Ninh Binh. It takes around 2,5hours, we get Hoa Lu – the ancient capital on Le – Dinh Dynasty with named Dai Viet  (Vietnam today). Dai Viet witnessed an independent time after more than one thousand year domination. At that time, the country was divided into 12 small territories and each of them tried to set influence on the other. Then the outside invader from China prepared to come back. Dai Viet country managed to stabilize the circumstance. For the long time, Hoa Lu ruins. In 17th century, the locals built on the same ground the King Dinh temple and Kinh Le temple. Visit there, you also learn more about the sample of traditional temple architect.
Leave the historical site behind; we get to the ecotourism site of Trang An.  Have lunch at the local restaurant with the special foods of Ninh Binh.
After lunch, we will discover the breathtaking beauty of Trang An, which was recognized by UNESCO as Natural and Cultural Heritage in 2014.  The scenery looks like in Jurassic Park with many grottoes, lakes, ponds, streams. The boat is rowed by the friendly local people will bring you through the amazing grottos and stunning scenery surrounding.
Back to Hanoi in the late afternoon.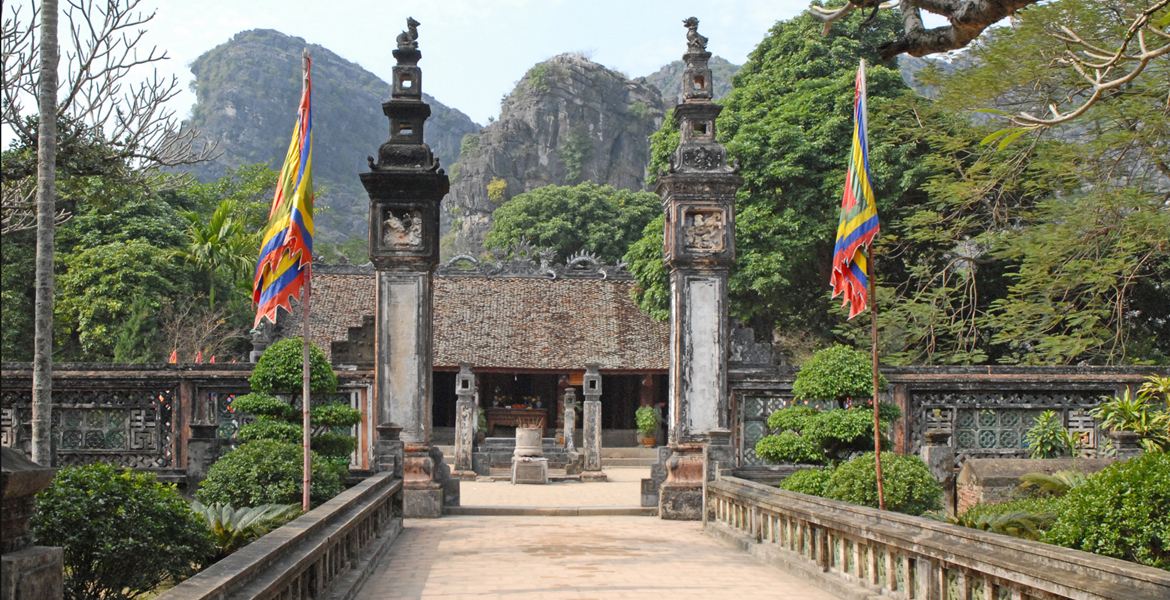 Dinh temple – Hoa Lu – Ninh Binh
Trang An grottoes – Ninh Binh