Duration: 10 days 9 nights

Start: Hanoi/ Finish: Luang Prabang

Destinations included: Hanoi – Sapa – Ninh Binh – Ha Long – Luang Prabang

Price from: 1,089$/person
This tour offers a great combination of sightseeing, trekking and homestay in a minority village from Hanoi to Sapa, Ha Long Bay to Luang Prabang. Begin in Hanoi – a hidden historical capital; then to Sapa a charming mountain town rich with spectacular treks to unearth fascinating hill-tribe life. Next, journey to the sea and cruise the jade green waters of Halong Bay in a traditional junk. Kayak to discover hidden lagoons, swim in the warm sea or relax on deck and soak up the views.
Soaking up the hustle and bustle of Hanoi's Old Quarter

Enjoying the sublime natural beauty and cool climate of Sapa's mountains and valleys

Mingling with traditionally dressed locals in a traditional ethnic minority village

Trekking through the picturesque Muong Hoa Valley

Cruising on a traditional junk boat through scenic Halong Bay

Soaking up the beautiful colonial architecture World Heritage

Trekking and homestay in the minority village

Enjoying the beautiful and peaceful landscape

Experiencing the local life in depth
Accommodation with breakfast

Other meals listed in the itinerary

Expert English-speaking local guide

Tours as mentioned and air-conditioned transfers

Sightseeing and permit fees during guided times

Boat cruises and rides while on tour

Flights to tour destinations (Economy Class)

Round way train tickets (sleeping cabin)

Service charges and government VAT tax
Day 1: Hanoi arrival with first sight
Upon arrival, your guide will be waiting to transfer you to your hotel.Refresh until the sunset time. We transfer to Long Bien bridge for capturing and watching the sunseton the Red river peaceful countryside and the historical and legendary Long Bien bridge.
Then your guide will take you on a culinary as well as local life adventure in the Old Quarter.  Let's stop at Bia Hoi corner to try the local brew, a draft beer that traces its roots to Eastern Europe. Do as the locals do and pull up a stool and enjoy a drink while watching the world go by. You will also have oppotunity to see the busiest time of local life here. Then, walking through the maze of bustling streets that make up Hanoi's Old Quarter, we tempt our taste buds with the famed Hanoi dish Banh Cuon at a local eatery. Watch in awe as the skilled chefs demonstrate for you how this tasty dish is put together. Continuing into the atmospheric heart of the Old Quarter, we wander past street stalls and quiet residential lanes where you can observe local life that has changed little since Hanoi was founded over 1000 years ago. 
Our next two snack stops are at outdoor barbeque stalls.We sit down with the Hanoi locals and sample various meat, vegetable and bread specialties that are flame grilled over hot coals for extra flavor.  It'sthen time for dessert as we venture down a small alley to join in the local tradition of feasting on fresh fruit served in a cup and smothered with crushed iced and condensed milk (To Tich) – this specialty is one not to be missed!
Day 2: Hanoi highlights – night train to Lao Cai
Have your breakfast at the hotel. Then, start your journey to the highlights of Hanoi at the Ho Chi Minh Mausoleum, an imposing structure that houses the remains of the revered former president who led Vietnam's campaign for independent from colonial rule. Next, head onward to Quan Thanh temple and Tran Quoc pagoda – the oldest pagoda in Hanoi where are the scared places that Hanoian usually come on the first and midle day of Lunar month to pray health, peace, property,…
For lunch, sit down for a traditional Vietnamese meal with a contemporary twist at Home Restaurant, a boutique eatery within the quiet Truc Bach lake area. The yellow walls and rustic décor here hark back to Hanoi's past life as a French colony.
After lunch, get the cyclo through the Quarter's 36 streets named for the products historically sold here. Stop at some of the only remaining streets that continue selling the goods of their namesake, including Tin and Bamboo street. Continue by strolling your wark to Hoan Kiem lake. Get a strong Vietnamese coffee at a café overlooking the Lake – an important symbol of Vietnamese folklore. Enjoy a water puppet show for a look at traditional performance art in Vietnam.
After your dinner, being transferred to Hanoi train station for the night train to Lao Cai for Sapa
Day 3: Hanoi – Sapa – trekking with Sue – homestay
Upon arrival at Lao Cai train station in the early morning, our driver is waiting here to transfer you to Sapa. Having breakfast at the local restaurant and refresh. At 9:30 the trek starts in the center of Sapa. We will walk towards the new market on the edge of the town. From there we hike up the hill for some spectacular views of Sapa. We keep walking through the incredible rocky landscape surrounding Sa Seng village. Sa Seng is a small Hmong farming village located on the edge of the hill. After Sa Seng village we have lunch and a well-deserved short break. After lunch we continue our trek in the direction of Hang Da village. This part of the trek will be the most rewarding with some breathtaking views of Muong Hoa valley. On the way you can stop at one of the small roadside shops and try some sugar cane. Continue to trek downhill through the woods towards Cau La Chuoi village. Cau La Chuoi village is a small Hmong farmers community and the home of Sue's parents, this is where you will spend the night. You can relax a bit and meet Sue's parents before it is time to make dinner. Learn about daily village life for the Hmong while enjoying your homestay. Sue will teach you how to make spring rolls and a delicious home-cooked meal will be prepared. During dinner try drinking some rice wine with your host.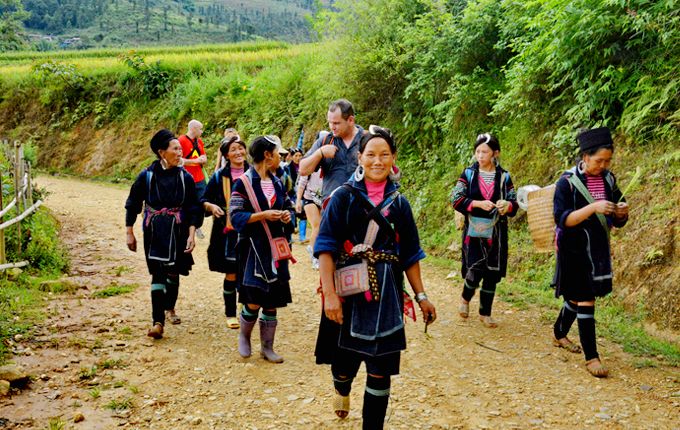 Day 4: Sapa trekking – night train back to Hanoi
The next morning trekking starts at 8 AM. First however it is time for breakfast to give you the strength for another long day of trekking. The trek will start downhill to Muong Hoa valley and Lao Chai village. We will walk past grazing buffalos and through a beautiful small bamboo forest before reaching Lao Chai. We will then walk through the Hmong village of Lao Chai towards Ta Van where we will have a small lunch. From Ta Van the trek continues in the direction of Giang Ta Chai village. This part of the trek is a bit more difficult as we will walk through the rice paddies. Make sure you take in the spectacular views along the way. After the rice paddies we hike up the hill and through another bamboo forest. This will take us to a steep waterfall with clear mountain water. Take a moment to relax on top of the waterfall and enjoy the view. After the waterfall we will go downhill to the village of Giang Ta Chai. Giang Ta Chai is a Red Dao village. The Red Dao are easily recognizable by the red scarfs they wear on their heads. In addition Red Dao women shave off their eyebrows. Take the opportunity to immerse in the Red Dao culture and take a look at their houses, traditionally made out of bamboo and wood. In Giang Ta Chai a car will be waiting to pick you up and take you back to Lao Cai for night train back to Hanoi.
Day 5: Hanoi – Ha Long
In the morning, your Halong Bay experience begins with pickup at hotel in Hanoi for the 3.5-hour drive to Tourist Wharf, where you'll check in at the cruise Lounge, the private waiting area to board your boat.
12:30 Get on the boat by private pier and then crew warmly welcomes you. Enjoy welcome drink following tour guide's briefing. Check in your cabin and take a rest.
13:30 Enjoy a nice set-menu lunch while the boat goes ahead to the Bay's center. After lunch, you are free to relax. While lights of afternoon decrease slightly, hundreds of islands with different shapes definitely amaze you. What make your trip memorable are not the sights of Halong, but the line that you go. Best time to watch unparalleled sceneries of Halong in slow motion.
15:00 Arrive at Luon cave by tender. You will discover the area's tranquility by kayaking or sitting on rowing boat. No matter what you choose, the activity centrally offers the serenity of escape, particularly in the midafternoon.
16:00 By tender, visit Titop Island. Free choice of activities: sunbathing, swimming and especially conquering the peak of the biggest island in Halong Bay.
Recommendation: Climb up the top of the island & enjoy bird's-eye view!
17:30 Go back the boat for relaxation at dusk. Enjoy FREE seasonal fruits on sundeck.
18.30 Join in cooking demonstration on the sundeck. Try to make it and taste how well your skill is!
19.30 A dinner that gives you an appetite will be served in romantic ambience with BBQ fresh seafood.
21:00 Free choice of evening activities (watching film, playing board, guitar and card games; going fishing squid on tender).
22:00 The first day ends with your sound sleep!
Day 6: Bai Tu Long – Hanoi – Luang Prabang
06:00 Awaken you (on desire) at dawn for morning exercise (Tai Chi Quan) on sundeck or enjoy beautiful spectacles that a blazing sunrise breaks the clouds of the island on the bay!
07:00 Have a light breakfast. Tea and coffee are complementary.
07:45 Visit Surprise cave (Sung Sot) discovered by the French in 1901 that opened for tourists since 1936, now it is a must-to-see tourist attraction for its beauty, for being the largest cave and for geology value of Halong Bay.
NOTE: Be ready with your camera, shoes & take incredible photos.
09:15 Come back to our boat for freshening up & checking out cabin. Should not seat & wait for getting off. The cruise runs on another route back to the marina that offers amazing pictures of Mother Nature showing full of typical islets.
10:30 Enjoy farewell buffet while the boat continuously cruises back!
11:30 Say "GOODBYE" to the crew who should be friends in your memory about Halong Bay! Enjoy tea at the lobby and wait for the transfer to Noi Bai airport for your flight to Luang Prabang. Upon arrival, you will meet your guide and transfer to the hotel.
Day 7: Luang Prabang Discover World Heritage & Temple Sites
After a break, visit National museum, we visit the impressive stupa of WatVisoun and the shrine of WatAham, Wat Mai; visit WatXieng Thong, we then climb up to the top of Phousi Mount for an enjoyable exploration of the sacred, gilded stupa as well as a beautiful sunset view of the city and the Mekong River. From there, we explore Street Night Market, where you can find the lovely collection of handicrafts and handmade textile by local and hill tribe people surrounding LuangPrabang. Overnight in Luang Prabang.
Day 8: Trekking – Minority Villages – Traditional Ceremony – Homestay
We depart from LuangPrabang and drive north and uphill for about 1 ½ hours to the trek starting point. At Ban Pak Chaek, we cross the Ou River by a fishing boat and walk past Pak Chaek of a Lao Leu village. Through a valley and some rice fields we trek along in this beautiful landscape before we arrive at Huay Thuom and Yha Nang villages, which are inhabited by the Khmu ethnic minority. Get a good insight into village life during your overnight stay. Enjoy Ba Sii ceremony before dinner. Homestay at Ban Yha Nang.
Meals included: breakfast, lunch, dinner
Duration: approx. 1 ½ hour transfer/ 6-7 hours trekking.
Day 9: Trekking – Picnic on Mountain Top – Luang Prabang
After breakfast, we walk past an area where Hmong people are mining gold and see the PhaPon Golden Mountain. We trek to the top of the mountain that offers a great view and stop for local picnic lunch. We continue the trek from PhaPon area to Ban Hat Huay (Khmu). From here, we return to LuangPrabang. Overnight in Luangprabang.
Optional: getting a traditional spa is good option for you tonight. Please request our operator for the reservation in advance.
Meals included: breakfast, lunch
Duration: approx. 1 hour transfer / 6 hours trekking
Day 10: Luang Prabang departure
After breakfast, relax before you transfer to the airport, or enjoy our optional program.
Meals included: breakfast