Duration: 15 days 14 nights

Start: Hanoi / Finish: Saigon

Destinations included: Hanoi – Sapa – Ha Long – Hoi An – Saigon – Mekong Delta – Phu Quoc
With great food, lush scenery and lots of warm, friendly locals, the whole family will fall in love with Vietnam. Sail beautiful Halong Bay. Delight at water puppets in Hanoi. Chat with local people in Sapa. Get a new outfit tailor-made and enjoy Eco tour in Hoi An. End your holiday with take a dip in the Vietnam East Sea. With so much to share and do together, you'll experience the culture, flavours, and highlights of a Vietnamese adventure your family will always remember.
Soaking up the hustle and bustle of Hanoi's Old Quarter

Relaxing and chatting with local people in Sapa

Cruising on a traditional junk boat through scenic Halong Bay

Strolling through the lantern-filled streets and riverside promenade of Hoi An Ancient Town

Feeling the metropolitan pulse of Ho Chi Minh City and experiencing its highlights

Gliding through the waterways of the Mekong Delta, enjoying the slow rhythm of life

Having leisure time on the most beautiful beach in Vietnam – Phu Quoc Island
Accommodation with breakfast

Other meals listed in the itinerary

Expert English-speaking local guide

Tours as mentioned and air-conditioned transfers

Sightseeing and permit fees during guided times

Boat cruises and rides while on tour

Flights to tour destinations (Economy Class)

Service charges and government VAT tax
Day 1: Hanoi arrival with first sight
Upon arrival, your guide will be waiting to transfer you to your hotel. Refresh until the sunset time. We transfer to Long Bien bridge for capturing and watching the sunseton the Red river peaceful countryside and the historical and legendary Long Bien bridge.
Then your guide will take you on a culinary as well as local life adventure in the Old Quarter. Let's stop at Bia Hoi corner to try the local brew, a draft beer that traces its roots to Eastern Europe. Do as the locals do and pull up a stool and enjoy a drink while watching the world go by. You will also have oppotunity to see the busiest time of local life here.
Continue enjoy your real fabulous dinner with Vietnam traditional cusine. Back to your hotel to recover before starting your real Vietnam discovery in the next morning.
Day 2: Hanoi Cooking class – cyclo tour
Don't just eat Vietnamese food, learn to cook classic dishes yourself during a cooking class in Hanoi. In a small group limited to 10, you'll receive personalized attention from your guide as you buy ingredients from a local market and create traditional Vietnamese dishes. Plus, a morning or afternoon class lets you slot this into any schedule, and hotel pickup and drop-off make things extra convenient.
Head straight to a local market to purchase ingredients for the class and learn about produce integral to Vietnamese cuisine. In the kitchen, you'll prepare and cook authentic dishes, such as spring rolls, a salad of banana flowers, and barbecue pork with noodles and fish sauce. Once you've finished cooking, you'll sit down to feast on the fruit of your labors, accompanied by unlimited beer and wine. Once you've eaten your fill, your class concludes with hotel drop-off.
After lunch, get the cyclo through the Quarter's 36 streets named for the products historically sold here. Stop at some of the only remaining streets that continue selling the goods of their namesake, including Tin and Bamboo street. Continue by strolling your walk to Hoan Kiem lake. Get a strong Vietnamese coffee at a café overlooking the Lake – an important symbol of Vietnamese folklore. Enjoy a water puppet show for a look at traditional performance art in Vietnam before heading back to your hotel.
Day 3: Hanoi – drive to Sapa – Love Waterfall
8.00 Am: Leave bustling Hanoi city, drive to Sapa by road via a breath taking mountain pass giving you a panoramic view of the whole valley. You arrive at your accommodation in time for a delicious lunch.
In the afternoon, We will transfer to entrance of the Love Waterfall (Thac Tinh Yeu). It takes about 20 minutes walking to reach the waterfall, which looks as romantic as it's name promises.
When we are back at the car we drive to the top of the scenic Tram Ton Pass (1900m), the highest mountain pass in Vietnam. This highest point of the road is named Heaven's Gate.
The car will take us back to Sapa. On the way you will have the opportunity to stop at several points to enjoy the view.
Day 4: Sapa – Trekking Hang Da – Sa Seng – Giang Ta Chai
We start the trek from Sapa and take a small path into the mountains. The first part of this route we will be walking quite steep uphill through the forrest. On the way we pass some local houses and below us we can see the town of Sapa.
When get higher up in the mountains the terrain will get more flat and you can see a new valley with forrest and grasslands where you can see grazing horses. From here we walk to a small village called Sa Seng. Here we can have lunch with a local Hmnong family.
From Sa Seng we slowly descend to Hang Da village. From here we will have stunning views on the Muong Hoa (Green Valley) with it's ricefields. From Hang Da we descend to Giang Ta Chai. A village also inhabited by the Hmong ethnic minority (my ethnic group). During the trek I will explain you everything about my culture. In Giang Ta Chai transport will be waiting for us to bring us back to Sapa.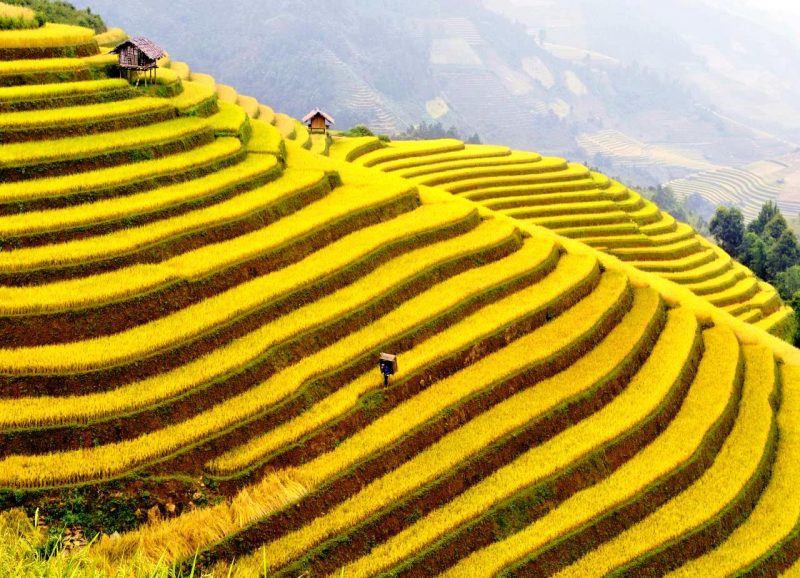 Day 5: Sapa – Suoi Ho – Ta Phin – Hanoi
We will start trekking in Sapa to the small village of  Suoi Ho, which is inhabited by the Hmong ethnic minority. From here you have an amazing view over the wide valley with the sloping rice terraces.We will slowly descend into the valley and continue our way on the edges of the rice fields and walk to Ma Tra, a Black Hmong Village.
In the next tiny village, Lung Khau. we will enjoy a well deserverd luch before we continue the trek to Ta Phin where you will be meeting the Red Dzao minority group. The Red Dzao are famous for there knowledge of ancient herbal medicines. You will walk through Ta Phin and I will tell you everything about the traditions of this hill tribe. Drive back to Hanoi.
Day 6: Hanoi – Lan Ha Bay
09:30 – 10:00Pick-up at your hotel near by the Old Quarter in Hanoi by luxury shuttle bus.
12:00 – 12:30 Embark on the Perla Dawn Sails, enjoy a welcome drink and cruise briefing.
13:00 – 14:00 A splendid lunch is served while cruising into the primitive Lan Ha Bay.
15:15 – 17:15 Experience kayaking through the poetically beautiful Tra Bau area. Then enjoy swimming in the emerald water. Visiting a fish farm and socialize with the resident fishermen to learn more about local life and how the people work every day.
17:00 – 18:45 Return to the Perla Dawn Sails, enjoy "Happy Hour" drink time while taking part in the cooking demonstration.
19:00 Delight in the shimmering atmosphere of thousands of stars while eating a fantastic, expertly prepared dinner on top deck of your boat, all while floating in the center of the serene Lan Ha Bay.
Day 7: Bright cave – Lan Ha Bay – Hanoi
06:00 – 06:30 Begin your new day with a Tai Chi session or a photo hunt.
07:00 – 08:00 Enjoy breakfast in the fresh air and peaceful beauty of the Bay.
08:15 – 08:45 On a bamboo boat, visit Bright Cave and a serene round lake surrounded by rich forest and precipitous stone cliffs.
09:00 – 10:15 Pack your luggage and check out of your cabin while cruising towards the port.
10:30 – 11:30 Enjoy an extraordinary Buffet lunch.
11:45 – 12:00 Disembark the Perla Dawn Sails & Farewell.
14:30 – 15:00 Arrive in Noi Bai airport for the flight to Danang
Being pick up by our drive in Da Nang and transfer to Hoi An ancient town.
Day 8: Farming and fishing tour
You will be picked up at hotel by Jack Tran's guide and Jack Tran's driver on a mini-van and then you will be transferred to Jack Tran's bike station in the countryside to start your biking route
Cycle to a local farming village traveling along picturesque country roads (If you don't know how to ride bicycles, please use our scooter "XE OM" services and you pay the extra 140,000 VND)
Share in the daily work life of local farmers – hoeing and a soil, watering veggie at an organic herb garden, riding water buffalo in the field and enjoy the freshest air of the countryside beauty.
Board the Jack Tran's boat and cruise to the mouth of the river where it meets the Cua Dai Sea
Learn and try your hand at local traditional fishing techniques using round and cast nets
Learn to paddle the strange and unique Vietnamese bamboo basket boats.
Explore the now tranquil coconut-palm flanked waterways of a past war and hear of the extreme conditions endured by soldiers on both sides.
Jungle walk and join for a mock battle with mud attack for fun.
Back on-board our Jack Tran's boat, enjoy lunch and cold beer or soft drink
Return to hotel by Jack Tran's mini-van. Refresh for a while.
In the late afternoon, start your tour at a local restaurant famous for white rose dumplings, found exclusively in Hoi An. Sit back and enjoy the wonder of the locals working here, who churn out up to 6000 of these dumplings every day! Your visit here includes a chance to try making a few of your own dumplings before sampling a few.
In a nearby try another local specialty: banh can crackers. Served with quail eggs, pork and a tasty salad, this dish is a highlight of Hoi An street food culture and a must-try for every visitor. Pull up a small street-side stool and enjoy it with your guide.
Continue onward to sample grilled pork satay and spring rolls at a local restaurant. Next up is fried wonton – lovingly referred to as a "Hoi An pizza" – and finally try the famous Cao Lau noodle or chicken rice. Wrap up the tour with a stop at Sky Coffee Bar, a local favorite within the Hoi An Museum. Chat with your guide over a beverage here before heading back to your hotel for a restful evening.
Day 9: Hoi An – Flight To Ho Chi Minh City
After your flight to Ho Chi Minh City, check in to your hotel and then start a day of exploring at the city's Central Post Office, next door to the iconic Notre Dame Cathedral. Next, stroll toward the Saigon River along Dong Khoi Street to the centre of town and the commanding Saigon Opera House.
The tour continues with a stop at the Reunification Palace, where a North Vietnamese tank crashed through the gates in 1975 to end a war that killed an estimated 58,000 Americans and three million Vietnamese. Visit the War Remnants Museum for a harrowing look into the wartime hardships and atrocities.
In the evening head back to the Saigon Opera House, to watch the spectacular A O Show. This performance is a showcase of Vietnamese culture and art, and combines, in beautiful precision, elements of both old and new.
After the hour long show, take a short walk through the wide Boulevards of central Saigon to Hoa Tuc Restaurant – a real culinary and architectural gem, tucked away from the hustle and bustle of District 1. Renowned for its combination of contemporary Vietnamese cuisine and authentic French colonial architecture, Hoa Tuc is the perfect end to a memorable night in Saigon.
Day 10: Saigon – Mekong Delta
This morning depart from your hotel and drive approximately two hours to Ben Tre, and a gateway to the delta. Here, you will board a small boat to start your sightseeing around the waterways of Mekong Delta. Known also as the rice bowl of Vietnam because of its large rice production, the area has also diversified into activities related to aquaculture, rearing of animals, cash crops and fruit trees.
Visit brick factory and board a small boat and meander through the canals and waterways and stop at a small homemade coconut processing plant to see how coconuts have been turned into oil, candy and woven mats that are later sold in the market. After the boat trip you will have a short walk to a local village to see mat weavers at work, before jumping on the deltas version of a tuk tuk and travelling down the country roads to the pier. Here you will board the beautiful Le Jarai restaurant for lunch. After lunch relax on the top deck and take in the scenery back to Ben Tre, where on arrival you will transfer to Can Tho in late in the afternoon.
Overnight in Can Tho. 
Day 12: Can Tho – Floating market – fly to Phu Quoc
Rise early and travel by boat to the township of Cai Rang to see the hustle and bustle of a floating market. Watch as vendors hawk their wares from boats teeming with produce and buy a coffee from one of the floating cafes. Then, take the afternoon flight to Phu Quoc. The rest of day is free at leisure at beautiful beach.
Day 13: Free on beach/ or joining beach activities
Phu Quoc island is a heart shaped slice of paradise with a high central ridge of protected dense rainforest and a fringe of palm lined white sandy beaches. You can choose to simply relax and enjoy the stunning beaches, great food and pace of island life. Either, you also to enjoy snorkeling, fishing, kayaking,…
Day 14: Phu Quoc – free on beach – fly to Saigon
Free at leisure on beach full your morning before taking your afternoon flight back to Saigon
Day 15: Saigon departure
Your driver will meet you at your hotel and transfer you to the airport for your onward flight home.