Short introduction about Noi Bai International Airport
Noi Bai international airport is the second largest airport in Vietnam, behind Tan Son Nhat international airport. The airport has 2 terminals. T1 terminal is for domestic flights and T2 terminal is for international flights. In 2014, the Noi Bai airport was ranked in "Top 5 worst airport in Asia". After the inauguration of the new international terminal T2, the Noi Bai airport received the World's Most Improved Airport Awards from Skytrax. Although the T2 terminal has just opened since 2015 and 6 times bigger than T1 terminal but it seems going overload in few years because the number of foreigner tourist coming to Hanoi is more and more crowed. Until 2016, the total number of passenger of 2 terminals was 20 million. The T3 and T4 terminal will be built after 2020.(Nọi Bai international airport current flight tracker: by Flightrada24)
Before 2014, it took around 45 minutes from Noi Bai airport to center of Hanoi for the distance 40km. But now the distance is only around 27km and only takes around 25-30 minutes from the airport to Hanoi center. On the way to Hanoi center, you will pass by newly-built Nhat Tan bridge and look very beautiful view of Red river.
Noi Bai airport pick up and drop up service
Taxi is the most convenient transportation to transfer from Noi Bai airport to Hanoi center or turnround. There are some kinds of taxi for you to refer:
– Stamp-taxi:
There are 14 stamp-taxi companies firms at Noi Bai airport such as: Mai Linh taxi, Taxi Group, ABC, Ba Sao, Noi Bai taxi, Dai Nam taxi,… Guest can easily catch the taxi in front of the airport lobby. The taxi fare base on the taxi meter. It's around 400,000 – 500,000VND (16-18$) for the distance of 30km with 4 seats car. If you go further, you have to pay more. Even reputable taxi company but not sure 100% reputable taxi drivers, the drive can go around and around or longer way to have higher taxi fare from you. Almost taxi drivers do not know English, guest should write the name of hotel with exact address to avoid being taken to wrong place. Some popular type of 4 seat cars are: Hyundai i10, Kia Morning, Chevolet Spark. These car are small, old and not good smell. You have to pay more for higher type of cars such as Toyota Vios, Toyota Altis, …
– Un-stamp taxi – Hanoi Airport Taxi service of Asia Unique Travel company
This transportation type has many advantage than stamp-taxi:
+ Fix taxi fare: do not worry about "go-around-meter". You only have to pay 250,000VND (11$) from Hanoi center to the Noi Bai airport, 350,000VND (15$) from Noi Bai airport to Hanoi center. With us, "Hanoi center" means covering 8 main districts: Thanh Xuan, Dong Da, Hoan Kiem, Long Bien, Hoang Mai, Cau Giay, Ba Dinh, My Dinh (Tu Liem).
+ Higher standard car: we only use Toyota Vios for 4 seats car or Toyota Innova/Fortuner for 7 seats car. The car interior is large, clean, new and good smell.
+ Driver can speak English: not very well but enough to communicate with you.
+ Trusted service: Driver will wait for you at arrival gate with your name on signboard, help you to carry out your luggage, tenderly and politely drive you on the way. Using our Noi Bai airport pick up-drop up service, you will feel safe and comfortable.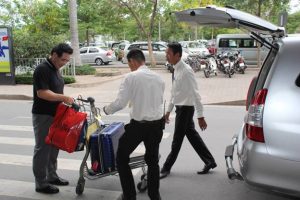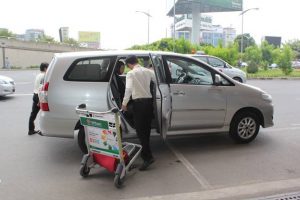 Airport pick up and drop up price